Latest topics
»
Our KS Group and 2024
by
Martin
Yesterday at 6:11 pm
»
Scourge of war Waterloo remastered on Steam
by AP514 Fri Dec 01, 2023 9:54 pm
»
Crashing upon returning to game
by Uncle Billy Sat Nov 18, 2023 7:14 pm
»
Orders? What orders?... Or how to mess around with phrases in MS Excel
by
Martin
Fri Nov 10, 2023 2:38 pm
»
AAR "THE EAGLE TURN EAST: POLAND, 1807"
by Chorch Fri Oct 20, 2023 8:22 am
»
MS Excel for artillery resolution combat
by Chorch Sun Oct 15, 2023 7:27 pm
»
Impromptu Games
by Grog Fri Oct 06, 2023 6:08 pm
»
new user here map file problem
by lebronjames Sat Aug 12, 2023 9:04 am
»
AAR Isle of Wight 1805 Napoleonic Kriegsspiel
by Chorch Sun Jul 09, 2023 7:20 pm
»
Set Up for SOWWL NAPOLEON GAMES For Kriegspiel style
by rschilla Mon Jun 26, 2023 2:45 am
»
Infantry wont fire
by camrik Wed May 17, 2023 3:37 pm
»
Perry-Castaneda Library Map Collection
by Mr. Digby Wed Mar 15, 2023 10:09 am
Statistics
We have
1541
registered users
The newest registered user is
genie05
Our users have posted a total of
30458
messages in
2286
subjects
As we often play games with several players and the expressions of each one may vary, or especially for younger people who start playing, we have tried to compile all the expressions to give orders that were related in the game "Battalia" (2001), designed by Peter Turcan (one of the pioneers in the use of 3D in wargames), a precursor computer game at the time aimed and I believe succeeded in putting one in the shoes of a commander-in-chief in a battle. Turcan himself had released two games with a similar system, "Austerlitz" (1989) and "Waterloo" (1989).
We have taken the orders from the game and have dumped them into an MS Excel sheet, to create phrases that could be translated into orders. There are a series of phrases that can be created with drop-down menus, detailing the order, location, commander or affected units. The Excel sheet is very simple, and you can vary it for your games.
Grammatically it may not be very correct, but it is quite understandable.
We have placed two buttons on the sheet with very simple macros to automate steps: one to delete all the expressions and the other to copy the message and paste it in image format, to be able to upload it to another support and send it if applicable.
We have left the last row # for a personal phrase that is not included in the drop-down cells.
The data lists are on the right of the main screen, so any variation you want to make is quick and easy to implement.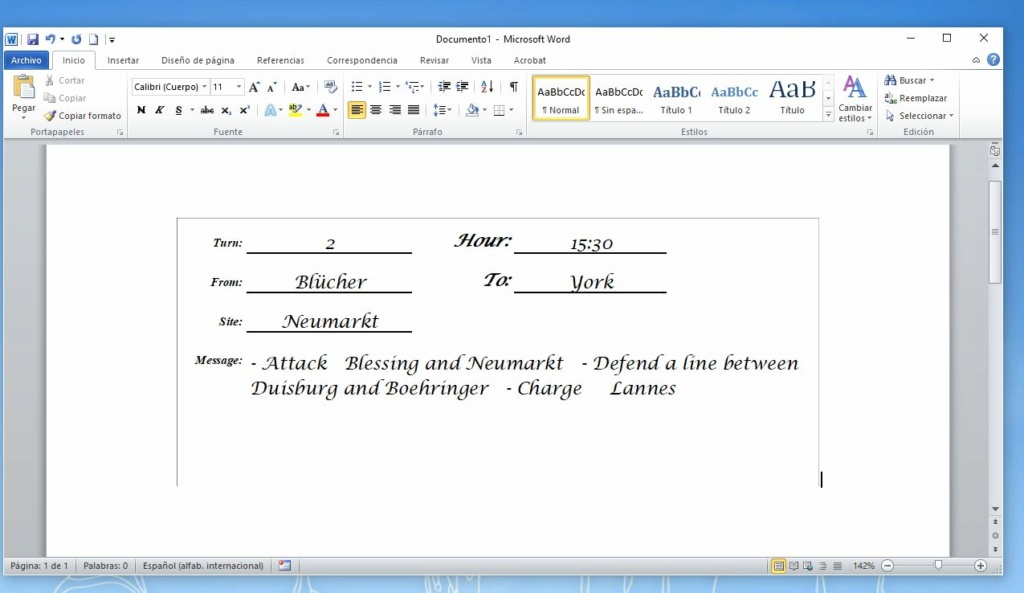 Pasting the message area on a sheet of MS Word
Hoping that it could be useful to you, any suggestion or comment will be welcome.
If you want the MS Excel file, can send me a PM with your e-mail.
Last edited by Chorch on Thu Nov 09, 2023 6:22 pm; edited 1 time in total
It's an interesting idea.  I suppose is the downside is that it's difficult to cater for all circumstances.  Nevertheless I can see it could provide helpful prompts for new players. And the spreadsheet approach means it's easy to add new commands.

I remember the Peter Turcan games, and played Austerlitz, which was a real advance for the time.  As well as Waterloo, I think he also did one on the 1588 Spanish Armada, although I never played either of those.

Some years later he produced a freeware game, which was moddable to a degree.  This time, instead of the troop blocks, he used small figures (as in Total War and SOW).  I was hoping he would take it further, but he never did.  In many ways, his thinking was ahead of the technology.

Martin J

Martin




Posts

: 2509


Join date

: 2008-12-20


Location

: London



The concept is simple, with a little knowledge of MS EXcel people can polish the Excel sheet even further.
In this case, I left the last row free, for any case that was not included in the previous ones.

I have the three Turcan's games, "Austerlitz", "Waterloo" and "Battalia" which was the one that had 2D silhouettes of figures in a 3D environment, which had a series of battles from different eras, but I never played any of them, but Ideas could be drawn such as the conception of the terrain or the transmission of orders.

And yes, Turcan in its own way was one of the precursors, like the excellent "Battles of Napoleon", by Chuck Kroegel and David Landrey, which is the PC napoleonic game that has best inspired me in a Napoleonic battle.
Yes "Battalia", that's the freeware one I was thinking of.

The sprites were a great idea, but PCs weren't yet powerful enough to do them justice. You couldn't tell the armies apart, even if close to the troops in question. The sprite graphics were just too crude. On the plus side there were scenarios (and maps) for several different historical battles.

Wonder what happened to Peter Turcan?

I never played "Battles of Napoleon", but many of those old SSI games had some great ideas too, and would be worth redesigning with modern specs.

Martin J

Martin




Posts

: 2509


Join date

: 2008-12-20


Location

: London



---
Permissions in this forum:
You
cannot
reply to topics in this forum