Latest topics
»
AAR Isle of Wight 1805 Napoleonic Kriegsspiel
by Chorch Yesterday at 11:08 am
»
Set Up for SOWWL NAPOLEON GAMES For Kriegspiel style
by Uncle Billy Fri May 26, 2023 5:44 pm
»
Infantry wont fire
by camrik Wed May 17, 2023 3:37 pm
»
Impromptu Games
by Uncle Billy Sun Mar 26, 2023 3:43 pm
»
Perry-Castaneda Library Map Collection
by Mr. Digby Wed Mar 15, 2023 10:09 am
»
Huge list of OOB's from the napoleonic era
by Field Marshal Tamas Sun Mar 05, 2023 6:15 pm
»
Nordkrieg, or Land Battleships in the 1930s
by
Martin
Sat Mar 04, 2023 9:24 pm
»
Is it possible to have two Gettysburg installations on the same pc ?
by Mongo Sun Feb 19, 2023 3:20 pm
»
Game freezing issues
by Field Marshal Tamas Sun Feb 19, 2023 12:48 pm
»
German Maps 1:25,000
by King_Rufus Mon Feb 13, 2023 12:03 am
»
Isle of Wight 1807 Maps
by Chorch Wed Feb 08, 2023 8:59 pm
»
Nordkrieg, or Land Battleships in the 1930s
by Mr. Digby Fri Jan 20, 2023 10:21 am
Statistics
We have
1506
registered users
The newest registered user is
Vil
Our users have posted a total of
30410
messages in
2280
subjects
To your health, gentlemen,
From the Spanish lands, which have given us the immortal Quixote, Velázquez and the worst politicians in this hemisphere, a distant follower who has decided to plunge into the waters of the Kriegsspiel.
I have a blog of stories and other topics from the Napoleonic era and a small corner dedicated to wargaming.
This week I hope to start a fictional Napoleonic campaign of kriegsspiel on the Isle of Wight, which I hope I can complete in its entirety, something that as a referee/umpire would be a first in the annals of wargaming, or at least mine.
Greetings to the members of the forum that I hope to attend as many times as possible.
Hello! Your Isle of Wight campaign sounds fantastic. How would a person become involved?

Mr. Digby




Posts

: 5768


Join date

: 2012-02-14


Age

: 63


Location

: UK Midlands



Hello. Mr. Digby,
Thanks for your words. I've tried to post some photos and a new post, but it seems new members can't post with some links in 7 days...
It's a personal experiment with friends, and because it's the first kriegsspiel campaign I've starting (not my first campaign as umpire),
I'm sure there will be several failures, so if the experience is positive, I can share it more widely without being burned at the stake.
But I can advance a small introduction:
The map is relatively small, about 20x30 km, approx. so as an introductory experience we hope it will be positive.
To carry out the campaign we will use Tabletop Simulator for movements and messages with e-mail/Whatsapp.
We were lucky to find one in the Penn University digital collections, scale ca. 1:66,000, that we have colored and improved for the game.
Nor will it be a "typical" kriegsspiel because the turns are 2 daily turns of 6 hours, with an optional night turn. I've have some doubts about
this point...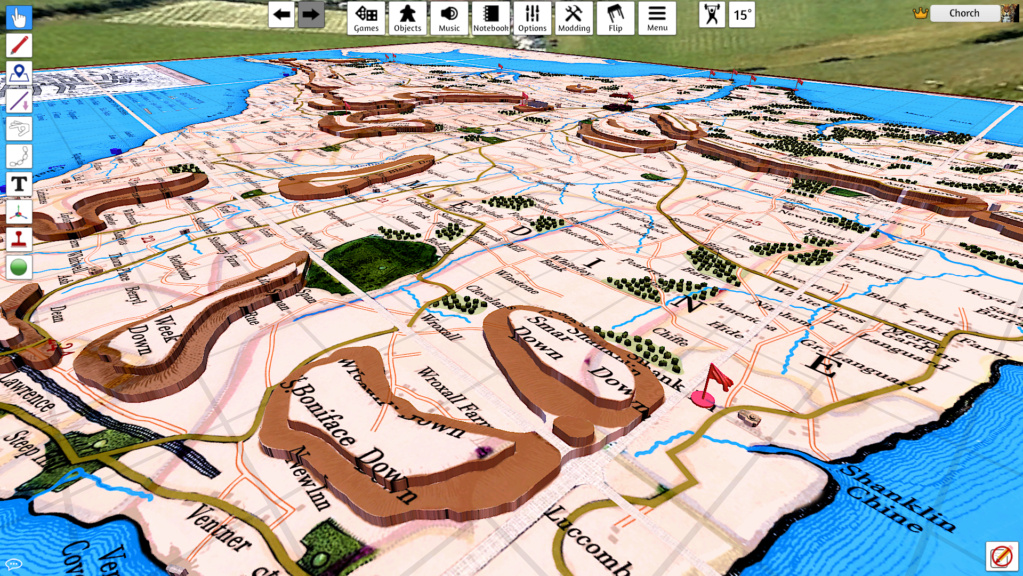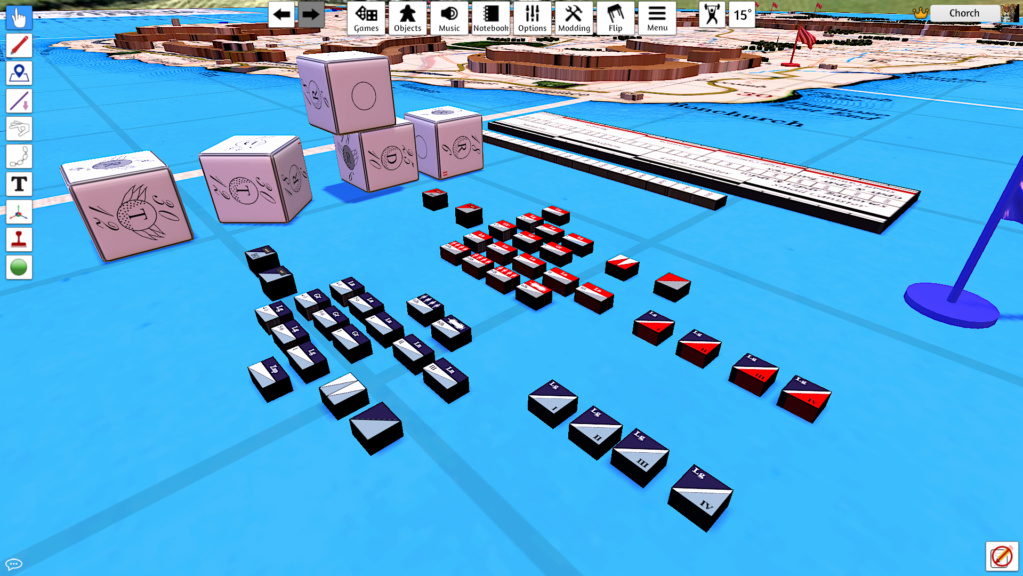 It looks fantastic. Please send us reports on how things develop.


Mr. Digby




Posts

: 5768


Join date

: 2012-02-14


Age

: 63


Location

: UK Midlands



Thanks, I'll try to make an AAR of the Campaign when it finishes.
I agree with Diggers. It looks as if you've put a lot of thought & work into it, Chorch. I'm sure that will pay dividends.

Martin J

Martin




Posts

: 2496


Join date

: 2008-12-20


Location

: London



Hi, Martin,

Thanks, as you have said, a lot of work, indeed. But the problem it's always the same: we are all "middle-aged" and both players are good
friends of mine, but sooner or later, there is always a problem, breaking the campaign: family, kids, work, any circumstance, etc.
But I hope this time will be different and we could finish it.
By the way, I think I didn't mention that it's partially based on a hex based wargame of Mark Wightman, from Draken Games, "Vectis" 3rd edition.
Are you running this by e-mail or might there be some files stored somewhere? Would you be able to keep us updated with progress by means of reports for each turn or two and accounts of battles? It sounds great and I'm kicking myself for never even considering the IoW as a campaign map before, despite all my decades of wargaming.

Now I'm going to look at places like the Isle of Man or Channel Islands to see if they are worth fighting over! I can see a mini-naval and seaborne landings campaign set in the Channel Islands maybe.

Mr. Digby




Posts

: 5768


Join date

: 2012-02-14


Age

: 63


Location

: UK Midlands



We start precisely this weekend, with TTS for the umpire (me) and with e-mail or WhatsApp for reports/messages.
It costs me nothing to open a post in the forum or where it is necessary to keep a "diary" of the campaign.
In part it is logical not to think of the Isle of Wight as a Napoleonic scenario because in reality it only served as a training place for some foreign units in British service such as the KGL, but nothing more: it did not even have Martello defensive towers like other places on the English coast... And the British naval superiority, especially after Trafalgar, left no doubt that an invasion was impossible. I think Napoleon already knew it a long time ago before Trafalgar...
I also have a mechanism based on Albion 20, by Victory Point Games, to know who is the "master" of the seas/by turn to consider or not disembark the units.
Probably other good scenarios could be Sicily, Corsica... or the Balearic Islands.
Minorca was a naval base for Britain and Spain, and a "raid" after Trafalgar battle could be interesting... The principal harbour was Mahon, in the south, and in the north, Ciudadela or Ciutadella harbour was obsolete and of no use for Royal Navy ships...

---
Permissions in this forum:
You
cannot
reply to topics in this forum