Latest topics
»
Impromptu Games
by
Grog
Today at 8:44 pm
»
Sandbox battle. wandering troops
by
Uncle Billy
Today at 2:54 pm
»
September 23rd 2018 face to face game at Little Gaddesdon
by
henridecat
Sun Jul 15, 2018 7:33 pm
»
Any interest in a new campaign?
by
Hannibal
Sun Jul 15, 2018 3:40 pm
»
SOW Scenario Generator
by
stephen
Sun Jul 15, 2018 10:34 am
»
Kriegsspiel at Origins 2018
by
Martin
Sat Jul 07, 2018 12:40 pm
»
Pre-Painted Metal Block Set
by
timothylrose
Thu Jun 21, 2018 10:33 pm
»
Interim Version 1.275 of the KS Napoleon Mod Uploaded
by
Uncle Billy
Thu Jun 21, 2018 1:09 am
»
Austria 1809 OOB with French Guard
by
Uncle Billy
Sun Jun 17, 2018 3:41 pm
»
A gift from the Southern California Kriegsspiel Society to the Kriegsspiel community of Little Gaddesden
by
Martin
Fri Jun 15, 2018 2:25 pm
»
Sunday 24 June Napoleonic Kriegsspiel
by
Martin
Thu May 31, 2018 6:06 pm
»
The Groghead Crew just finished a 1 1/2 year of Vol de a'igle III
by
Iconoclast
Wed May 30, 2018 10:24 pm
Statistics
We have
1020
registered users
The newest registered user is
stephen
Our users have posted a total of
24908
messages in
1981
subjects

Hello all,

With life settling down into a more normal routine, I am working on a new scenario for us to attempt in the weeks ahead. So far, I have thought about the OOB and edited one name within it. Yep, that's a lot of work.

I plan to recreate a scenario on the Fox's Gap map, which Baldwin built and has. I'm not sure he reads this forum, so I think I will have to recreate everything. That scenario failed (crashed), nobody knows why.

Anyway, I am going to rebuild it, with the greatest challenge to me being OOB editing. Once I have the OOB built, scenario creation should be but a couple hour's work.

After it is built, I will post a doodle and see how much interest we can build for the game.

The game will have many units, so the more players we can have the better. I'll probably set up about 5-6 commands on each side, so if we can muster 10-12 souls, we'll be in good shape. How many people have been turning up for other games?

Anyway, the backstory is figured, the concept is in place, and now all that's left is to see how much interest there is and to do the grind.

So, how about it? Who's up for a good scenario battle?

-Neal

Father General




Posts

: 918


Join date

: 2012-03-25



It is a sorry fact that Gen. Georgia's supply of silverware has become, of late, embarrassing low.  So the opportunity to visit new locales and pick up the odd bauble is of great interest.  Please see that any unpleasantries take place in an unspoiled part of the countryside.

_________________
I can make this march and I will make Georgia howl.

Uncle Billy




Posts

: 3109


Join date

: 2012-02-27


Location

: western Colorado



Hi Neal,

nice to have you back in business. How long has it been, like 6 months?
Sounds like an interesting scenario, keep it coming.
Regards


Leffe7




Posts

: 465


Join date

: 2012-03-01



It's been probably close to 7 months, although I did a Napoleonic game a few months back.

I managed to do okay when my baby was an infant, requiring mostly his mother's care, but now the parenting duties are divided a bit more evenly which has been making it hard for me to commit to anything that takes more than an hour.

I got an old scenario from Baldwin yesterday, and I will probably use the OOB from it, although modified for the new scenario. My challenge right now is to decide just how big to make the entire thing. I'm thinking smaller because it is much easier to manage a small scenario than a large one.

I will work on it this week and will update you all over the weekend. :-)

-Neal

Father General




Posts

: 918


Join date

: 2012-03-25



Welcome back Neal.

I'm looking forward to playing ACW again, so your scenario has come at a good time.

Martin (J)

Martin




Posts

: 2242


Join date

: 2008-12-20


Location

: London



Good to have you back, Neal. I too am ready for an ACW game, for a nice change.



Grog




Posts

: 600


Join date

: 2012-08-31


Age

: 49


Location

: Nottingham, England



I feel welcome and motivated.

Right now I'm thumbing through Leviticus for inspiration for the next scenario... Using the Confederate States Translation, of course...

Father General




Posts

: 918


Join date

: 2012-03-25



LOL You thought I was joking?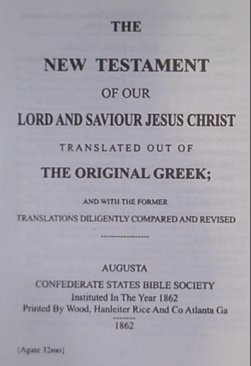 Father General




Posts

: 918


Join date

: 2012-03-25





Similar topics
---
Permissions in this forum:
You
cannot
reply to topics in this forum