Latest topics
»
Proposed fictional campaign
by
Mr. Digby
Yesterday at 2:56 pm
»
Impromptu Games
by
Grog
Fri Oct 18, 2019 6:47 pm
»
Looking to try the game and have some questions
by
Popski255
Thu Oct 17, 2019 6:57 pm
»
Using Wi-fi chat in "face-to-face" kriegsspiels
by
henridecat
Sun Oct 06, 2019 6:09 pm
»
24th November face to face game at LG. The War of 1810
by
Martin
Sat Oct 05, 2019 3:37 pm
»
Maps of Suabia - Strassburg to Augsburg
by
Martin
Sat Oct 05, 2019 12:27 pm
»
TableTop Simulator
by
Maximilian (Punky)
Sat Oct 05, 2019 1:22 am
»
Maps of Lower Austria.
by
Tim Carne
Fri Oct 04, 2019 11:31 pm
»
20th October 2019 face to face game at Little Gaddesdon
by
Martin
Fri Oct 04, 2019 2:42 pm
»
Set Up for SOWWL NAPOLEON GAMES For Kriegspiel style
by
camrik
Fri Oct 04, 2019 1:26 am
»
22nd September face to face game at LG. WW1 Naval
by
Martin
Mon Sep 23, 2019 3:21 pm
»
SOW Scenario Generator
by
Mr. Digby
Tue Sep 17, 2019 6:13 pm
Statistics
We have
1068
registered users
The newest registered user is
Pom127
Our users have posted a total of
26526
messages in
2073
subjects

Hi all
Hot on the heels of the scheduled 22nd September WW1 game (sign up here if you havent already
https://xoyondo.com/dp/azEsjfrFhKIkNS3)
we have an ECW mini campaign using the well tried mechanism of previous ECW games. A taster is will follow.
Please sign up asap here
https://xoyondo.com/dp/Y7UDRO2LchZV3Pv
to ensure we can allocate meaningful roles to everyone.
Thanks in advance.
Have a great summer.
Steve

gunboat diplomat




Posts

: 79


Join date

: 2008-12-21



It is August 1643.  During the spring the Royalists advanced on various fronts, occupied much of the SW and stormed the major seaport of Bristol.
Summer proved less successful for the King.  A failed siege of Parliamentarian-held Gloucester cost him a lot of men.  His main army has therefore moved N up the River Severn to rendezvous with Vaughan, and draw badly-needed foot from the latter's local Welsh forces.  This has also enabled him to drive-off local Parliamentarian forces under Brereton, which were threatening Shrewsbury.
The King's absence so far N has enabled Parliament to counter-attack elsewhere however.  Their main army under the Earl of Essex has just taken Banbury, a key Royalist stronghold, which formerly protected the King's wartime capital, Oxford.
Another Parliamentarian army under the darling of London, Sir William Waller, has advanced deep into the West Country.  The outnumbered Royalist western army under Hopton has fallen back into loyal Devon to draw additional recruits.
In a further blow for King Charles, the rich counties in East Anglia have formed the Eastern Association, and are raising a third Parliamentarian field army under Manchester.
In better news for the King, there are rumours that his viceroy in Ireland is close to negotiating an armistice with the Catholic Confederate rebels there.  If this be true, the Royalists might be able to bring back veteran troops from Ireland.
There are now two months or so before winter brings an end to major operations for the year.

gunboat diplomat




Posts

: 79


Join date

: 2008-12-21



Here is a more detailed map which shows the garrisons currently maintained by the Royalists (blue) and Parliament (red).
On the day, each player will each be given a larger laminated version of this, which they can mark-up with washable pens to record any changes in possession and the movements of the armies, as far as they know them.
You will see that both sides maintain a large number of garrisons.  These absorb in total many thousands of troops, but are necessary for control of the countryside, the levying of 'taxation' and the drawing of the supplies on which the field armies depend.
There are certain regions where one side is dominant.  Parliament controls London, the south east and East Anglia, whilst the King retains sway over Wales and much of the south west.  Nevertheless control is contested over most of the midlands.
Martin (J)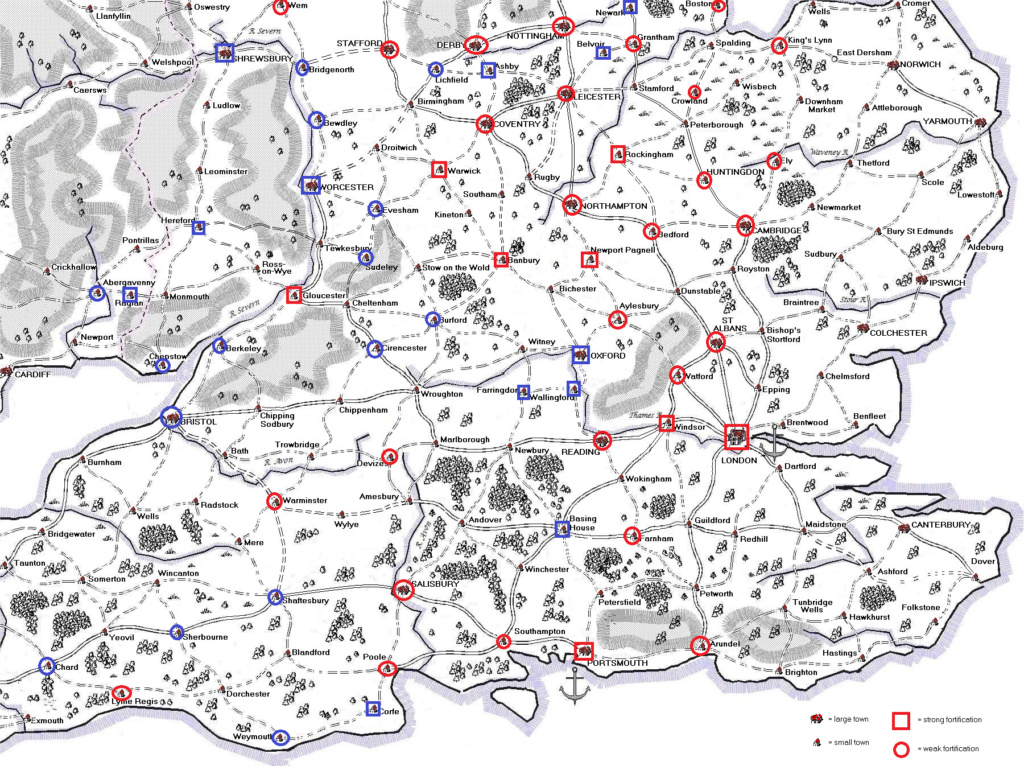 Martin




Posts

: 2326


Join date

: 2008-12-20


Location

: London



A note on the various commanders
The game will feature a number of leaders, of greater or lesser importance.  As a player, you will normally take the role of an army commander, but will have the ability to summon forces from more junior regional commanders if you are operating in their area.  Of course they may not always turn-up!  See below…….
Whilst the troops in the main armies will march anywhere, those in the smaller regional forces, and in garrisons, are mainly local men, who have sometimes enlisted to protect their homes.  Their colonels are often local bigwigs.  Some of them will leave their garrisons if so ordered, but won't go very far, and will expect to return to them when current operations are complete.
In terms of quality, these regional forces are not usually as well-trained as the main armies.  They can nevertheless provide a very useful temporary accretion of strength.  
Royalist army commandersKing Charles.  
As well as being the monarch, he is the senior Royalist commander.  Has little previous military experience, but seems to be learning from those who have.  So far, seems determined to defend his 'divine right' to rule.
Sir Ralph Hopton.
 Has had some military experience in the early campaigns of the 30 Years' War, and proved to be a competent soldier in his spring advance from Cornwall.  A fine old gentleman and close pre-war friend of the Parliamentarian, Waller.
Royalist regional forcesRichard Vaughan.  
Regional commander in Wales.  An earl in the Irish peerage, with no military experience.  His main tasks are to defend Wales, and raise additional men to strengthen the Oxford army.
Lord Loughborough.
 Regional commander in the Midlands.  Based at Ashby de la Zouche.  Energetic, but notorious in Roundhead circles as a plunderer.  He leads a mixed command of horse and foot, and sometimes operates with the 'Newarkers' (see below).
The Newarkers.  
Based at the key Royalist fortress of Newark on Trent, their field forces are mainly cavalry.  These troopers have acquired an evil reputation for their widespread rapine and depredations.
Parliamentarian army commandersThe Earl of Essex.
 The Parliamentarian generalissimo.  A grandee with a fair amount of military experience, gained in the 30 Years' War in Europe.  He recently achieved a major success in forcing King Charles to raise the siege of Gloucester.  He has always stood against untrammelled royal power, but does not wish to see the King humbled.  Twice married and twice cuckolded (reputedly).
The Earl of Manchester.  
An aristocrat of little military experience,  although he has previously served as a colonel under Essex.  Politically, something of an unknown quantity.
Sir William Waller.  
Has had some military experience on the Continent, including a spell in Venetian service.  He won acclaim early in the war for his part in the capture of Portsmouth, and subsequent operations at the head of an army.  A heavy defeat at Roundway Down has not dented his self-confidence, and he remains the favourite of the City of London.
Parliamentarian regional forcesLord Grey of Groby.  
Young regional commander in the Midlands, of no previous military experience.  No lover of the King!  Has has displayed initiative in his current role, and has strong support in Parliament.

Edward Massey.  
Regional commander based at Gloucester.  A professional soldier who knows his business.  Played a key role in defending Gloucester during the summer, and is prepared to go on the attack whenever the Royalists take the pressure off him.
Sir William Brereton.
 Regional commander in Cheshire and Staffordshire.  An energetic commander, who makes the most of what few resources he has.  Sometimes operates with Parliamentarian forces from Yorkshire (further N off-map).
If you fancy playing a particular army commander, please let me know and I'll see what I can do.
Martin J

Martin




Posts

: 2326


Join date

: 2008-12-20


Location

: London



English Civil War Armies
Your army will be mainly composed of foot (infantry) and horse (cavalry).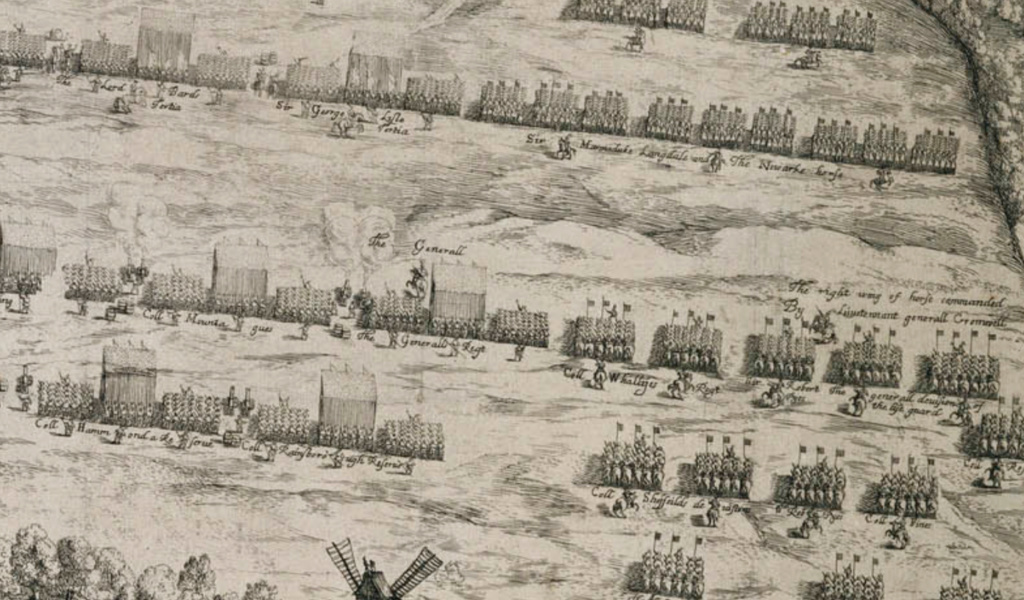 The foot were organized in regiments and brigades, with a mixture of pikemen and musketeers.  The ideal, not always attained, was a ratio of 2 musketeers to 1 pikeman.  Rather than distinguishing between these types, we will regarding your foot as a mixture of the two, at least a the campaign level.  
Similarly, your horse actually might include a small number of dragoons.  By 1643 however most dragoons seem to be have been dispersed to garrison service, so for the purposes of this game we are not dealing with these as a separate combat arm.  
Your armies will contain varying proportions of veteran troops, which may be a significant factor in any battle.  The term 'veteran' here covers a multitude of sins, including experience, training, motivation, and also having a high proportion of musketeers.  As army commander, you will have an opportunity to train troops in order to improve their quality.
In addition you will also have field artillery.  At this period, the artillery is much less effective in battle than it was to be later.  You may also have access to heavy siege artillery, which is slow-moving but very useful in sieges.  
Parliamentarian commanders will occasionally have the services of brigades from the London Trained Bands.  Although amateur soldiers, they are sometimes better-trained than the cash-starved regular forces.  They also tend to have a full complement of muskets.  Depending on how much the pay of the regulars is in arrears, they may even be better motivated!  However these are part-time soldiers and will refuse to serve for longer than a few weeks.
If you fight a battle, you cannot initially deploy these brigades in the first line.  So there is no question of sacrificing them on the basis that you will not have their services for long anyway.  Not that kriegsspielers would consider such a gamey tactic.  Oh dear me, no  

We have 8-9 so far signed-up for this October game, but can certainly fit more in.  If you are planning to come and have not already done so, please complete the poll here
https://xoyondo.com/dp/Y7UDRO2LchZV3Pv
Martin J

Martin




Posts

: 2326


Join date

: 2008-12-20


Location

: London



Battles
When armies close for battle, the campaign game will pause, and we will fight things out using a tactical module.  The aim is to complete a battle in about 20 minutes, in order to permit a speedy return to the map campaign.  
To this end, the focus is very much on the 'general' level of command, and the big decisions.   Players draw up their army's order of battle, and then fight the battle in 5 stylised rounds.  

Each army is composed mainly of cavalry (horse) and infantry (foot), represented by counters.  Some horse and foot may be designated as veteran.  Only veteran foot can perform certain functions (such as acting as a forlorn hope), and armies with a high proportion of veteran troops of either arm will tend to be both more effective and preserve their cohesion better in combat.
The battlefield is divided into 3 sectors – an infantry centre and two mainly cavalry wings.  Each army will have a player in command in each sector, for a total of 6 players.   Battles actually move faster with more players.
The army commanders involved in the battle will take overall command, and will be supported by their team-mates as subordinates.  Given that the campaign uses weekly turns – and southern Britain is not a large place – news of the battle would have reached players in a different region before the next turn, so involving players from other areas is not a concern. Only the 2 army commanders whose forces were involved will receive full details of the final result however (eg pursuit losses, and the fate of threatened baggage trains).
When drawing-up their order of battle, army commanders will need to take account of the customs and usage of the period.  For example, the more prestigious right wing of horse must be at least as strong as the left.  Umpires will be on hand to assist.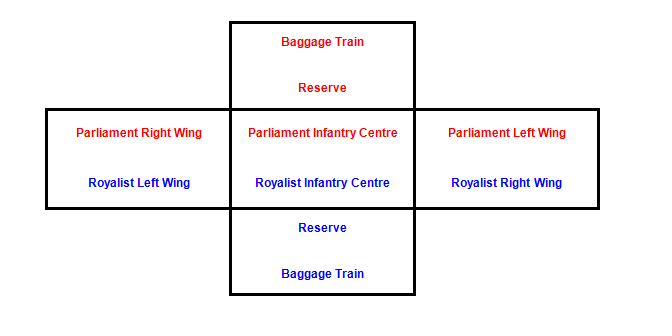 Each  of the 3 sectors of the battlefield is assumed to have a particular type of terrain.  Terrain may influence whether troops are able to perform an action and how successful they are in combat.  There are also areas for placement of reserves and baggage train guards for each army, which are to the rear of the centre (as above).
Battle is a chancy affair.  Of course any dang fool knows that the key to victory in the ECW involved defeating the enemy horse on the wings, potentially enabling a devastating attack on the exposed flank of their foot in the centre.  You will find that things are not so easy in practice however, due to the difficulty of rallying your victorious horse and perhaps also terrain factors.
You can also win the battle by winning the infantry fight and breaking through in the centre.  Will it be Cannae, or Ibera, chaps?
Martin J
PS it looks like 9 for this one at the moment, but we can certainly fit more in.  If you are planning to come and have not already done so, please complete the poll here https://xoyondo.com/dp/Y7UDRO2LchZV3Pv

Martin J

Martin




Posts

: 2326


Join date

: 2008-12-20


Location

: London



A reminder that the October game is on Sunday 20th, starting at the now usual time of 10.30 am, at the Little Gaddesden Village Hall.
We have 10 players already registered, but could certainly fit more in.  So if you would like to play, please register your interest on the link below
https://xoyondo.com/dp/Y7UDRO2LchZV3Pv
Martin (J)
Here are some more details on the game........
How will the game be run?
We will run the game in weekly turns.  Players will normally represent various army commanders, and will therefore typically be some distance apart.
The aim is to get through five or six months of campaigning.  Given that we start this game in August 1643, armies will go into winter-quarters about half-way through the session. During winter,
all players on either side
, can talk freely with any other player.  Campaigning will then resume in the spring of 1644.
How fast can I move?
With frequent rest days, your army will normally march no more than 3 towns on the map (see earlier in thread) in a weekly turn, even in good weather.  A purely mounted force can move somewhat faster for a short period, but will be unable to fight effectively if the horses are pushed too hard.  Heavy siege artillery normally only move 2 towns per week.
Only the primary and secondary roads are marked on the map.  You can leave these using more minor roads, but will move much more slowly.  Large rivers can only be crossed easily at bridges, and even then this might easily take a couple of days, depending on the size of your force.  
Logistics and garrisons  
In the ECW, both King and Parliament established a form of taxation in order to support their new armies.  Actually levying the tax was always difficult, but it was important to control a wide area to maximize your chances.  For this reason, large numbers of troops were tied-up in garrisons, which usually included some horse.  
The taxes were levied in cash, food and other materials, but for simplicity we will assume that
the currency of our game is measured in how many weeks of supply you have
.  Each turn the umpires will tell you how successful you have been in collecting supplies.  
The Royalists were very dependent on raising supplies from the towns they garrisoned, and the surrounding area.  A larger area produced more supplies.
The main Parliamentarian armies also followed this approach, but were also were partly financed by periodic remittances of cash from SE counties and particularly the City of London, a major backer of the Parliamentary cause.  This is an advantage for Parliamentarian armies if they are near London.
Larger towns provide more cash than small ones.  The amount raised may vary widely from week to week, for reasons which are not always clear to you.  
For both sides, troops in garrison can exist on what supplies they find nearby.  Marching armies must take supplies with them however, 
up to a maximum of 6 weeks
.  If you rest your army at one of your own garrisons, you will spend consume a lot less supply, as you can draw on the resources held there instead of using your reserve.
In general horse consumes many more supplies than foot.  There is one further specific issue which relates to horse.  The demands for fodder from large numbers of horse were a major constraint.  Even if money was available, it was very to provide sufficient fodder from more than about 6,000 horse in one place for any length of time.
What can I do each week?
You are operating with relatively inexperienced troops, poorly-trained officers and the almost complete absence of a military staff.  In general, things are only done when you spend your own time making them happen.  Given this,
each week you can do only one of the following
:
• Campaign
Move your army in order to seek battle, threaten enemy garrisons, or to protect any of your own garrisons which may be under threat.  You will be expected to lead them, and you will need to expend supplies in order to support and feed them.
• Siege
Spend the current week besieging an enemy garrison.  This may be an active siege, involving bombardment with siege artillery, or even a storm.  Alternatively you might simply blockade the garrison in hopes of wearing down their resistance.  You will need to expend supplies.
• Establish new garrison
Garrison and fortify a town you currently occupy.  This allows you to control more territory, and potentially raise more supplies.  This takes a week and does cost supplies, but henceforth the garrison will become self-supporting like any other.
• Improve or repair fortifications
Strengthen the defenses of one of your garrisons.  This will costs supplies, representing materials and for feeding and paying the extra labourers you will need to employ.   Assume that improving fortifications for a small town will take a week, and a large one 2 weeks.  Repairs to existing fortifications damaged in a siege may take less.
• Evacuate garrison
You may wish to do this if you find the garrison is no longer serving any purpose, or is threatened by an enemy army.  Or you are short of troops!  If you are willing to spend a week, your troops will slight the defenses and destroy any stores before they leave.  This does not cost supplies, but you may face resistance from the garrison commander and/or his troops, some of whom may be inhabitants of the town.  You and your army will need to be there to make it happen!
• Raise troops
Attract new recruits by beat of drum, and cajoling local dignitaries, at your current location.  You do not have control of what you will raise, which depends on who turns up, and the attitude of local dignitaries.  If you conquer a new area, there is a better chance of finding lots of new recruits there.  Depending on how many men you raise, this may cost supplies in order to pay the new men an initial bounty, and equip and feed them.   Horse will cost considerably more than foot, but may occasionally turn up with their own horse and equipment, as they tend to be from the better sort of person.
• Train troops
This may be a good idea if your army contains a lot of new recruits.  Trained men (represented as 'veterans' on the battlefield) fight more effectively.  You need to be at one of your garrisons to do this, but there is no supply cost, as you are drawing supplies from your existing depots.
• Make detachment
You can send a detachment to reinforce a friendly player or regional commander.  Be very cautious about doing this, particularly if they are some way away, as the detachment will be very vulnerable if caught by an enemy army.  Be equally cautious about detaching precious troops who may never be returned!
• Grand Forage
This represents putting all your effort into collecting supplies, and the wagons to transport them.  You will need to do this periodically, as you only carry a maximum of 6 weeks supply.  It will be more effective if you are based on a network of your garrisons, as the latter will know the area and what can be extracted from it.
In addition to one of the above actions, you can:  

 summon regional commanders to meet you at a rendezvous you specify.  Ideally this should be near their area of operations.  If they arrive, they will not necessarily bring all of their troops, as they have other, local, responsibilities.  They may also start consuming your supplies!

 Parliamentarian commanders (only) with a LOC to London can request reinforcements.

 send a spy to any point within 5 towns of your current position, and hopefully obtain useful intelligence at the end of the week.  Spying is a dangerous business however, and the spy may not succeed, or even be lost.

Martin




Posts

: 2326


Join date

: 2008-12-20


Location

: London





Similar topics
---
Permissions in this forum:
You
cannot
reply to topics in this forum