Latest topics
»
Ultimate General
by
Charmead
Today at 2:26 am
»
AARs - post here all after battle comments and replay files
by
Charmead
Today at 2:17 am
»
Impromptu Games
by
Mr. Digby
Sun Feb 17, 2019 5:47 pm
»
KS Napoleon Mod 1.30 & Supplemental Maps 1.20 Released
by
Uncle Billy
Sun Feb 17, 2019 3:54 pm
»
Player v Player with new AI
by
Uncle Billy
Sun Feb 17, 2019 3:51 pm
»
Wing Corps in 1812
by
Uncle Billy
Sat Feb 16, 2019 4:10 pm
»
Saturday game perhaps?
by
Charmead
Sat Feb 16, 2019 1:50 am
»
Stock scenarios with KS Mod AAR
by
risorgimento59
Fri Feb 15, 2019 7:43 pm
»
Gettysburg meets Kriegsspiel
by
Charmead
Fri Feb 15, 2019 12:40 am
»
SOW Scenario Generator
by
Mr. Digby
Fri Feb 15, 2019 12:38 am
»
Sandbox campaign
by
Uncle Billy
Thu Feb 14, 2019 10:46 pm
»
Game Crash?
by
Mr. Digby
Tue Feb 12, 2019 7:31 pm
Statistics
We have
1032
registered users
The newest registered user is
Mongo
Our users have posted a total of
25683
messages in
2028
subjects

Hi folks
Here is a first peek at the schedule for games at Little Gaddesden in 2018.  In a break with tradition, we are intending to run a series of 3 linked large Napoleonic battles in the Spring.  We traditionally offer a wide range of scales and topics, and will probably revert to that for the autumn schedule.  
*  Sunday 22nd April – Army level Napoleonic battle 1, followed by Club AGM.  
Xoyondo poll here
https://xoyondo.com/dp/4pmEA4gk8fhmwIY

*  Sunday 20th May – Army level Napoleonic battle 2
Xoyondo poll here
https://xoyondo.com/dp/AaWFf3LABpLV0Cf
*  Sunday 24th June – Army level Napoleonic battle 3
Xoyondo poll here
https://xoyondo.com/dp/Ql8EHHjk410ACkS
SUMMER BREAK

* Sunday 23rd September – Topic TBA* Sunday 21st October – Topic TBA* Sunday 25th November – Topic TBA
More details of specific games will be posted as they become available.
Martin (J)

Martin




Posts

: 2269


Join date

: 2008-12-20


Location

: London



It has been necessary to move the date of the May game from 13th May to Sunday 20th May for reasons beyond our control.  It apparently clashes with a plant sale at the village hall

Fear not, the K/S committee will not take this insult lying down, and crack SWAT teams have already been dispatched to Little Gaddesden with enough weedkiller to terminate every lupin, dahlia and delphinium in the village.
Martin (J)

Martin




Posts

: 2269


Join date

: 2008-12-20


Location

: London



As previously mentioned, the idea is to run a series of large Napoleonic-era battles in April, May and June.  
The basic unit of manoeuvre will be the brigade, consisting of a varying number of infantry battalions or cavalry squadrons.  Most brigades will be organised in divisions of two or more brigades, and the divisions will be grouped in corps.  In these games, most players will be corps commanders.  
The essence of the game is on managing the battle effectively.  The system recognises that armies are complex (and to a degree bureaucratic) organisations, and that it takes time for orders to be implemented.  Thus a simple single brigade advance or attack, without artillery preparation, might take place with only a small delay.  A big attack involving several divisions with cavalry support etc is likely to take a long time to organise, due to the need to plan and communicate with the many commanders involved.  It gets worse - a brigade or division which is planning its part in an attack, will be forced to abort its preparations if it becomes engaged.  Its senior officers cannot do two things at once, and the current fight will always take precedence.  Either the whole attack will need to be postponed or called-off, or it will need to go ahead without the participation of these particular formations.
Of course the big complex prepared attack is likely to be more effective, but only if it's not overtaken by such events.  So there is a tension between taking the initiative and proper preparation.  In this game you really can get inside your enemy's decision loop; perhaps by putting them off-balance by launching a succession of minor attacks.
One of the advantages of playing large scale battles is that it is possible to provide each player with a visual display of the battlefield, with all known troop positions marked.  See below for an example.  Apologies, I think I got the camera a bit out of focus.....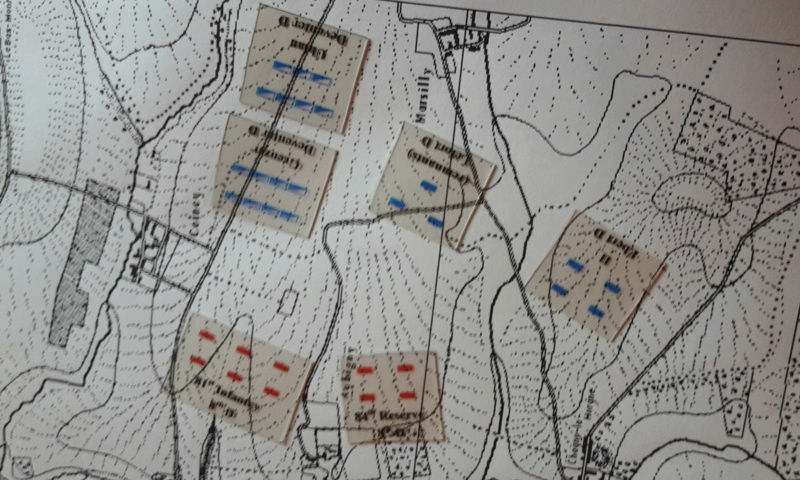 The idea is that each succeeding game will flow naturally from the results of the first, so players have a campaign context for each scenario, rather than just playing 3 separate battles.  That said, the games will only be linked in the sense that they form part of an evolving story.  They are all independent battles and it will absolutely NOT be necessary to play in all 3.  We will not be using fixed teams, and indeed we would like to rotate at least some players between playing and umpiring from game to game.
The first game is on Sunday 22 April at 11 am.  If you are interested in coming and have not already registered, please do so here
https://xoyondo.com/dp/4pmEA4gk8fhmwIY
The autumn schedule is likely to include a more eclectic mix of games.  One of the strengths of the group is the willingness to try new scales and periods, and we don't want to lose that.
Martin (J)

Martin




Posts

: 2269


Join date

: 2008-12-20


Location

: London





Similar topics
---
Permissions in this forum:
You
cannot
reply to topics in this forum