Latest topics
»
Impromptu Games
by
Grog
Yesterday at 4:25 pm
»
KS Map Modding Project
by
Uncle Billy
Sat Apr 20, 2019 3:23 pm
»
Uplifting the Stock Scenarios for the KS Mod
by
Mr. Digby
Fri Apr 19, 2019 5:49 pm
»
Firepower of skirmisher
by
Martin
Fri Apr 19, 2019 11:39 am
»
Retirement in Devon
by
Martin
Fri Apr 19, 2019 10:45 am
»
How do I restore the objective timer?
by
Uncle Billy
Wed Apr 17, 2019 3:34 pm
»
SOW Scenario Generator
by
Uncle Billy
Mon Apr 15, 2019 3:54 pm
»
April 2019 face to face game at Little Gaddesdon
by
Martin
Fri Apr 12, 2019 11:11 am
»
Maybe there is a problem with a OOB on the French side.
by
Ney(Lützow)
Thu Apr 11, 2019 6:14 pm
»
Fantastic Mod!
by
parmenio
Thu Apr 11, 2019 4:26 pm
»
Greetings from Brazil
by
Ney(Lützow)
Wed Apr 10, 2019 1:23 am
»
2019 AGM & Club Elections
by
Uncle Billy
Tue Apr 09, 2019 4:37 pm
Statistics
We have
1042
registered users
The newest registered user is
Conner
Our users have posted a total of
25974
messages in
2043
subjects

Players new to HITS MEETS GCM should carefully read "HITS/GCM Game Basics" http://forum.kriegsspiel.org.uk/t585-hits-gcm-game-basics#5107
"Richmond Redux" HITS/GCM Game 8
Game Day & Time: Saturday, February 23; 20:00 GMT
Sign-Up:
http://doodle.com/2bq3q7rcv2vmat8w
New Players: Always Welcome!
Location: GCM TeamSpeak site (HITS sub-channel) see
http://www.sowmp.com/gcm/home/teamspeak
Resources
:
-GCM Website:
http://www.sowmp.com/gcm
-More on Kriegspiel HITS:
http://forum.kriegsspiel.org.uk/f32-scourge-of-war
-More on HITS play in SoW:
http://www.norbsoftdev.net/forum/hits-headquarters-in-the-saddle
-GCM TeamSpeak Channel (GCM Site):
http://www.sowmp.com/gcm/home/teamspeak
-Blaugrana's Tips on Setting Up TeamSpeak Whisper Channels:
http://forum.kriegsspiel.org.uk/t270-teamspeak-whisper-keys
-More on sending couriers: See page 62 of the SoW Game Manual
-Marching Thru Georgia's "Just Couriers" mod download (an enhanced set of written orders for courier delivery):
https://www.dropbox.com/s/lhsoim0115jk89q/JustCouriers.zip
-More on the 1862 campaign to control the Cumberland Gap "The American Gibraltar"
http://en.wikipedia.org/wiki/Battle_of_the_Cumberland_Gap_(June_1862)
-Listen to 2nd South Carolina String Band sing "Cumberland Gap":
https://www.youtube.com/watch?v=ZgntNdjwzUE
Overview
The recent skirmish at the outskirts of Richmond, Kentucky decided nothing. The armies, awaiting reinforcements and actively recruiting areas under their control, are back at it after a short rest. The collision for control of central Kentucky is upon the nation and will, by all appearances, be monumental!
http://www.civilwar.org/battlefields/richmond.html
This game will be a fresh start from the HG7 encounter that froze mid-game. There will be a new map, new placements, new player rosters & reshuffled OOB's, and CinC's may make all new choices. Didn't make it to HG7? No problem! Everyone is welcome in this one.
In the HITS/GCM game series the goal is to simulate the challenges of Civil War division command (or brigade command) by combining traditional HITS play with the enhancements and unique maps of Garnier's Campaign Mod system. Adding to the command challenge are real-world limitations that place significant responsibility for executing players' orders in the hands of the AI's computer-controlled subordinates – who bring varying degrees of ability! (see "Restrictions on TC'ing brigades and regiments" below).
To further enhance the player experience, participants are asked to be aware of their own position in the game's OOB, and act accordingly when responding to "orders," requests and other communication from the Army CinC, corps commanders, and teammates. The in-game chain of command is set up to add realism, direction, and cohesion. Don't be afraid to have fun role-playing with it!
What's new in this Game?
We will continue to offer players several command options including infantry divisions, independent infantry brigades, and large artillery commands. Army CinC's may explore additional options for organizing their OOB's. For instance, a CinC may choose to retain a small reserve under his control or assign a few guns to individual divisions as tactical support. Yankees and Rebels may bring different organizational styles and structures to battle. Players will lead moderately-sized units suited to their experience and preference and those who enjoy running the guns are likely to find themselves commanding the army's artillery pool.
In future games we expect to explore options to build in additional asymmetries in infantry numbers, guns, OOB structure, victory conditions, etc. to add variety and interest.
To that end, please feel free to post your ideas on specific scenarios for the HG format.
*In this game we continue our simplified restrictions on TC'ing and unit control. Players may take direct control of any or all regiments or brigade leaders within 50 yards. Once a player moves beyond 50 yards from a regiment or brigade leader, these must be returned to AI control.
Exceptions: Army CinC's personally commanding a reserve division, and players controlling batteries may freely TC (take and maintain control of) these units.
*Most game rules will be the same as the last few games. Follow this link for additional background
http://forum.kriegsspiel.org.uk/t596-rebels-revenge-hits-meets-gcm-game-4
Game Day Reminders
*All players must register on GCM ahead of time
http://www.sowmp.com/gcm
and run the GCM launcher the day of the game. Plan on joining GCM Teamspeak 15 minutes before game time.
*Regular HITS Players must be sure that the mods below
are disabled
before the game begins:
-CouriersAndMaps1-5
-SmallCouriersAndMaps
*Players
may use
most other mods and are encouraged to activate
-GCM Toolbar (or other favorite enhanced toolbar. Only 1 toolbar should be activated)
-Marching-Thru-Georgia's "Just Couriers" mod for enhanced written courier order capabilities (see link under Resources above)
*To encourage those new to the HITS experience and accommodate any who wish to play only a brigade,
players are asked to express command preferences in advance
at
http://doodle.com/2bq3q7rcv2vmat8w
*Restrictions on TC'ing brigades and regiments:
The HITS/GCM games impose limitations on players' ability to take control (TC) their units that differs from standard HITS and GCM play
a) Players may give the full-range of written courier, command map, point & click, and button-rock commands to brigades, through AI-controlled brigade leaders, at any time. It is then up to
computer-controlled
subordinates to carry out those orders. Courier(s) will deliver all player-orders issued by any method;
b) Civil War division and corps commanders did occasionally step in to personally direct individual brigades and regiments. In this game, players may take direct control of (i.e., "TC") and issue direct orders to any infantry brigade (through its leader) or individual regiment(s) within 50 yards. Once a player moves beyond 50 yards away, all TC'd brigade commanders and regiments must be returned to computer control. A unit that is TC'd may receive orders by any method.
In other words, to take personal, direct control of a brigade or regiment, a player must be there, and remain close by
.
Unlike earlier games, it is possible for a player to have multiple leaders and regiments TC'd at the same time so long as he remains within 50 yards of each
;
c) The
only
way a player may give direct orders to an individual regiment is when he is within 50 yards per "b" above. Beyond 50 yards, players may never send orders to a computer-controlled regiment. This direction must come through orders (typically written) given to a regiment's brigade commander;
d) Batteries, individual guns, objective holders and supply wagons may be freely TC'd and moved by any method at any time;
e) Players at brigade-command level are subject to the same TC'ing limitations as divisions i.e.,
a brigade commander may only TC regiments within 50 yards and must return regiments to AI control once beyond 50 yards
.
What will happen be the outcome in Kentucky? Join us on Saturday to determine if the Commonwealth lives up to its motto, "United We Stand, Divided We Fall"
My sympathies as ever with the South


Khryses




Posts

: 281


Join date

: 2012-04-26



Good fight, pityful I dropped, but luckily the AI under MTG command appeared from the replay to have used well, my started movement on our left

mitra




Posts

: 337


Join date

: 2012-10-10



Generals, I submit my report of the action in Kentucky that took place last night.
10:13 AM: The divisions of Palmer and Suchet move North towards the objective: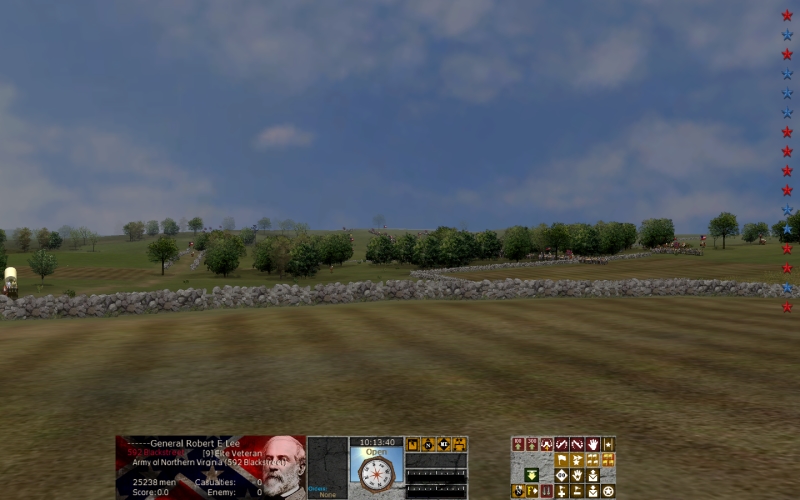 10:21 AM: Standing atop a hill with a commanding view over the region, General Hays is performing scouting actions while awaiting support:
10:31 AM: The left flank of the Confederate army is Robinson's small division, supported by General Grog. The puffs of smoke were most alarming, and I was hoping that the left would curl back round and fall back quickly. Around this time Generals Suchet and Mitra are killed while in battle: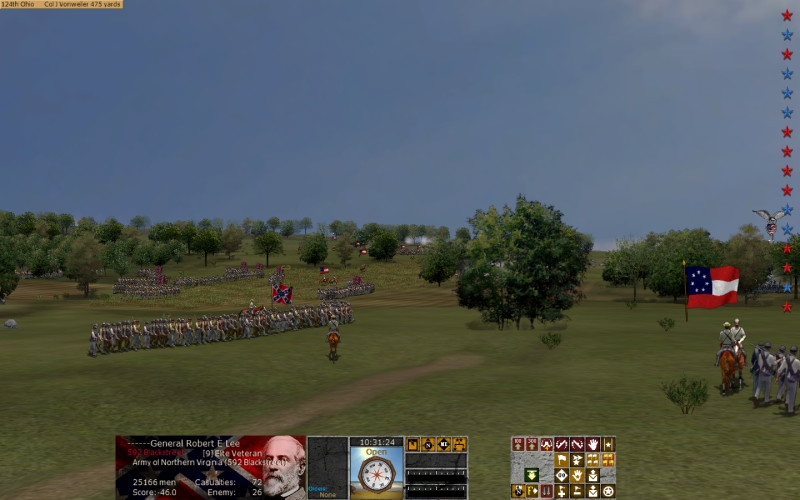 10:32 AM: I send couriers to Grog encouraging him not to engage the enemy to his front, as I am fearful for the left. Meanwhile, Suchet's division moves forward to engage what seems to be an isolated division. At this time I send Couriers to Generals Palmer and Hays, with instructions for one to attempt to drive the enemy guns from the heights in the East, while the other shuts the door on the enemy division being attacked by Suchet and elements of Grog's division. Unfortunately, even after sending at least 3 couriers, the message to attack was never received, and a great opportunity was lost: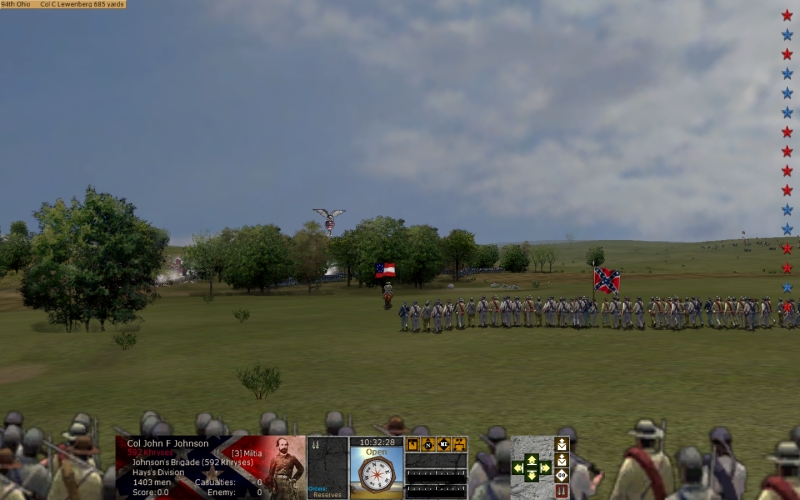 10:41 AM: Suchet fully engages the exposed Union division:
10:53 AM: The fighting on the left grows more intense. BoldRover''s division should be coming up on the left, but miscommunications, and problems with command mean that his division arrives too late: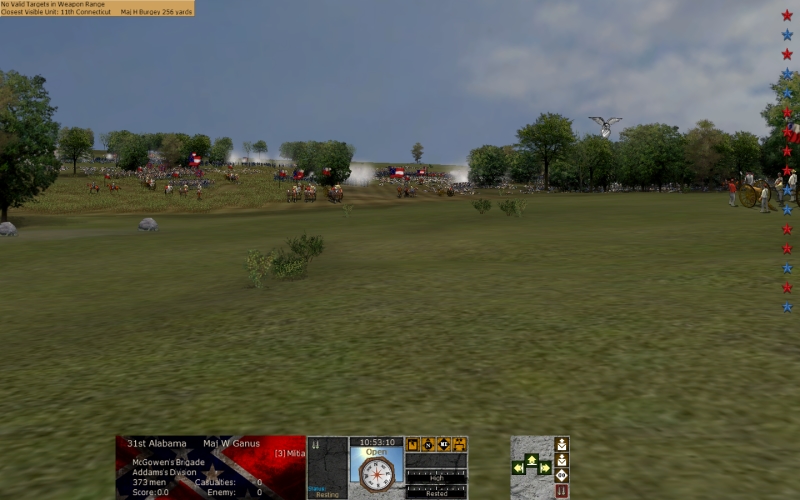 10:53 AM: Suddenly, waves of Union infantry emerge from the woods on the left, enveloping Grog and Robinson, and threatening Suchet's division. I am desperately awaiting the arrival of BoldRover's division to stem the blue tide: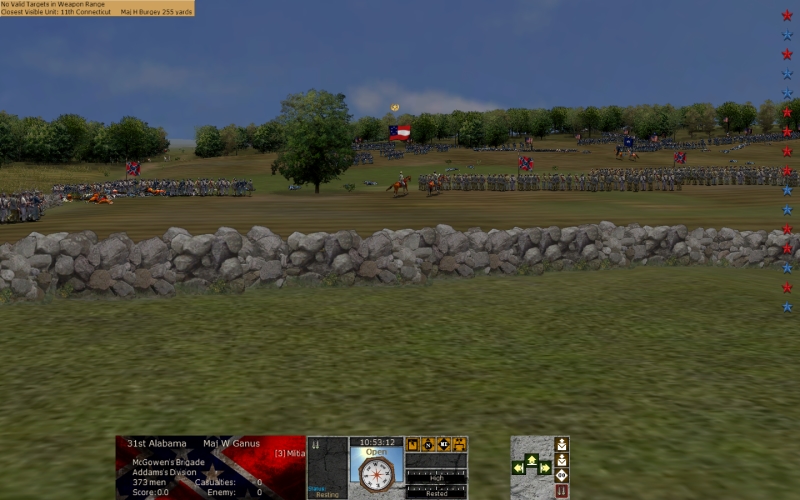 10:53 AM: On the right, Palmer and Hays eventually begin their attack, but Palmer cannot hold while the guns hold the heights, and Hays discovers Union General Byrd attempting to move to our extreme right. The Confederate attack on the right fails: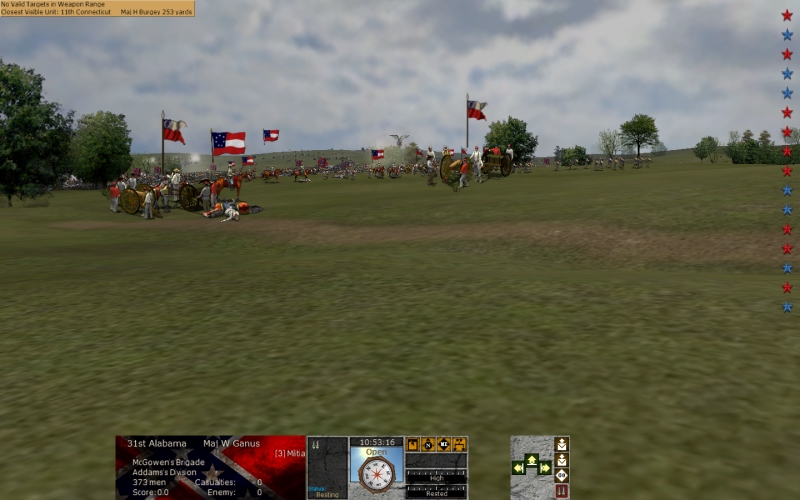 10:54 AM: The fighting on the left continues. Where is BoldRover's division?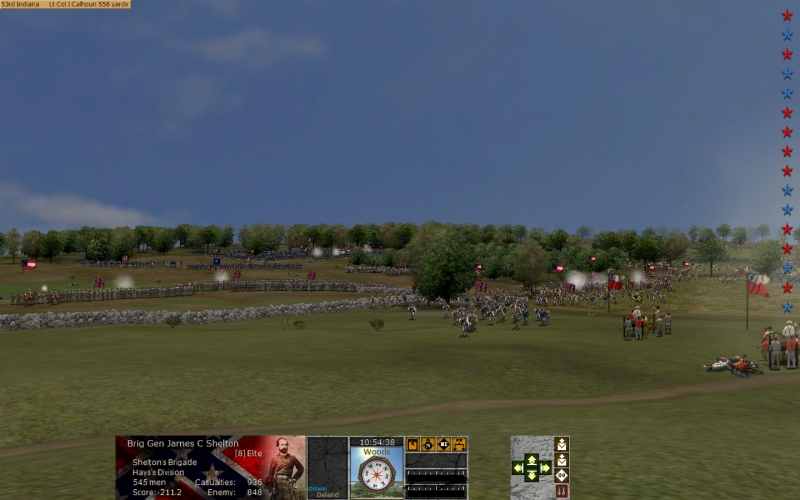 10:54 AM: There! Using my field binoculars I see BoldRover's division finally emerging through the treeline. But I fear it is far too late, and the enemy seems able to turn and repel him.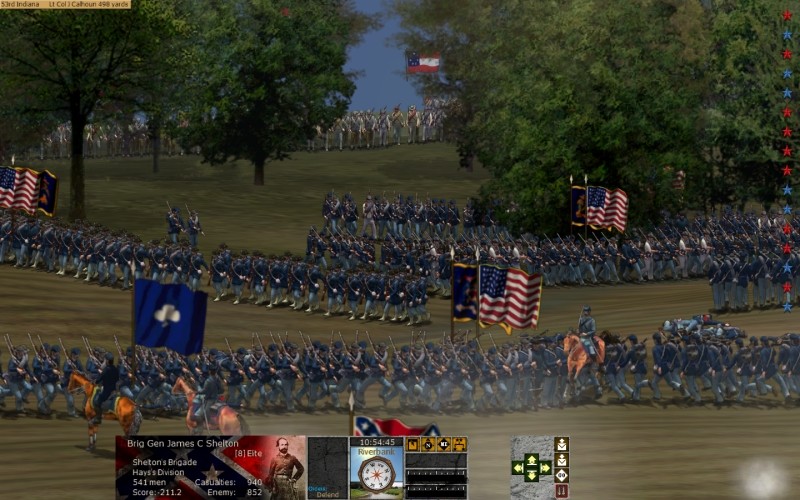 10:54 AM: A fierce fight breaks out on the left while elements of Suchet's division, Longstreet's brigade, Grog's division, Boldrover's division, and the shattered remnants of Robinsons small division try to regain the initiative on the left: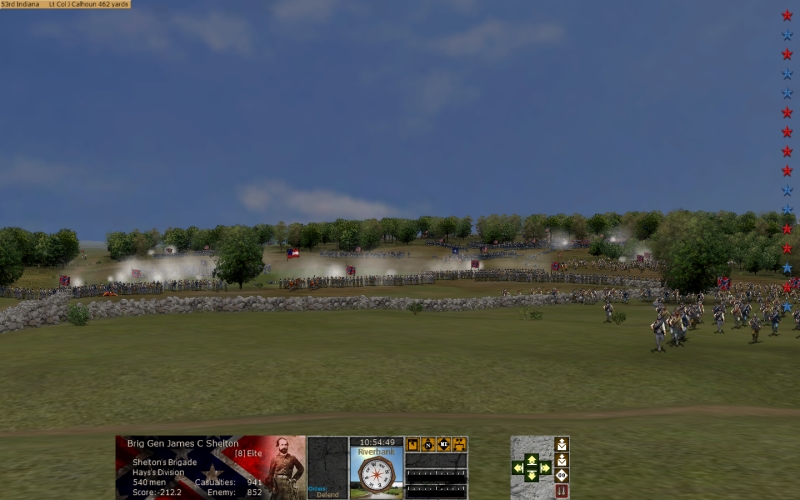 Nevertheless, the Confederates have lost too many men, we stand little chance of taking the 2 Northern victory locations, and Blackstreet orders a general withdrawal.

Blackstreet




Posts

: 144


Join date

: 2013-02-03


Age

: 42


Location

: Hampshire



August 31, 1862
Richmond, Ky

Department of War, Washington City
Secretary of War Cameron

Sir:

It is with great pleasure I report the defeat of the enemy near Richmond this morning. The battle commenced when General Soldier who was leading his men southwest spotted what appeared to be a lone enemy division about a mile north of the Hodges farm. After quickly conferring with him, it was decided not to wait for the rest of the army to move up but instead quickly seize the nearby woods. As this was taking place, another enemy division appeared near the Hodges farm. But it stayed in place and made no attempt to join with the division farther north. Also at this time, I noticed that General Shaka's division was moving into position from the northwest. As this was an opportunity to defeat the enemy in detail, I ordered both Soldier and Shaka to dispatch the lone enemy division. Both of our divisions deployed smartly and were soon in action.

More enemy began appearing to the west. General Spoom's division came onto the field at this time and quickly moved to Gen. Shaka's right. Our plan was to envelop the enemy left. Gen Mitra was making a long march west, out of sight of the enemy and would fall on the enemy's rear. Just as his men were getting into position near the McGill farm, an errant shell exploded nearby and concussed the poor man. He was last seen galloping north shouting, "ciao, ciao!" I quickly rode north to the leaderless division and appointed Gen. Abby as commander. He sorted his men out and quickly moved to the right of Gen. Spoom's division and began implementing our goal of envelopment.

As Gen. Abby was moving into postion, the enemy moved a division up on his right with the intention of doing some mischief to our guns which were beautifully sited on high ground to the east of the battlefield. Little did he know that this division had moved into the very position where our final hammer stroke was to fall. General Byrd and his men slammed into the flank of this enemy force. The enemy was in danger of falling into a double envelopment. Had the enemy commander on this wing been slower to react, we would have had the opportunity to bag the entire rebel force. But he quickly repositioned his men and prevented Gen Byrd from accomplishing this feat.

I was about to leave Gen. Abby to his work when I saw that the combined forces of generals Shaka, Spoom and Soldier had forced a collapse of the rebel center. I began to quickly ride to Gen George and his reserve division to order it to the left of Gen. Byrd and break the last enemy resistance. But before I could reach Gen. George, the enemy began to pull back yielding the field to us.

Our casualties were quite heavy. Initial reports put them at 6,000 killed, wounded and missing. From the appearance of the battlefield, the enemy sustained far higher losses.

After the battle, Gen Abby brought me some very disturbing news. His men came upon Gen. Blackstreet's personal baggage train. While securing the wagons, they found a large cache of silverware and other valuables. It appears that the general and his men had been looting the civilian population while moving towards Richmond. Such behavior is beneath contempt. I have secured the valuables and sent them north for safekeeping. I shall make every attempt to return these items to their rightful owners once this rebellion is put down.

I remain your obedient servant,

Maj. Gen. M.T. Georgia, Commanding

_________________
I can make this march and I will make Georgia howl.

Uncle Billy




Posts

: 3409


Join date

: 2012-02-27


Location

: western Colorado



"He was last seen galloping north shouting, "ciao, ciao!'"

Too funny, Kevin.

kg little mac




Posts

: 430


Join date

: 2012-07-09


Age

: 60


Location

: Eden



Well in reality I told "ma p...a p.....a lurida,va a f......o connessione di m...a" but better you never know what is under the "." .


mitra




Posts

: 337


Join date

: 2012-10-10



Fantastic game fellas. Thanks to Ron again and well done Yanks.

Nice pics Blackstreet. Now, a Movie from the commanders view would be cool.

Mike

Grog




Posts

: 650


Join date

: 2012-08-31


Age

: 50


Location

: Nottingham, England





Similar topics
---
Permissions in this forum:
You
cannot
reply to topics in this forum