Statistics
We have
1032
registered users
The newest registered user is
Mongo
Our users have posted a total of
25650
messages in
2024
subjects


Tim Carne




Posts

: 38


Join date

: 2008-12-26



Lots of good stuff here, and have bookmarked this site.

I'm particularly interested in the Vauban-type fortress plans.

Thanks for posting.

Martin (J)

Martin




Posts

: 2269


Join date

: 2008-12-20


Location

: London



I have been trying out the beta map overlays and have found an incomplete set of maps of the Lutzen battlefield of 1813 in 1:8000 scale and printed in 1828.  These look similar in style to other KS maps so I am wondering if these were printed (in Berlin) by the 1828 committee.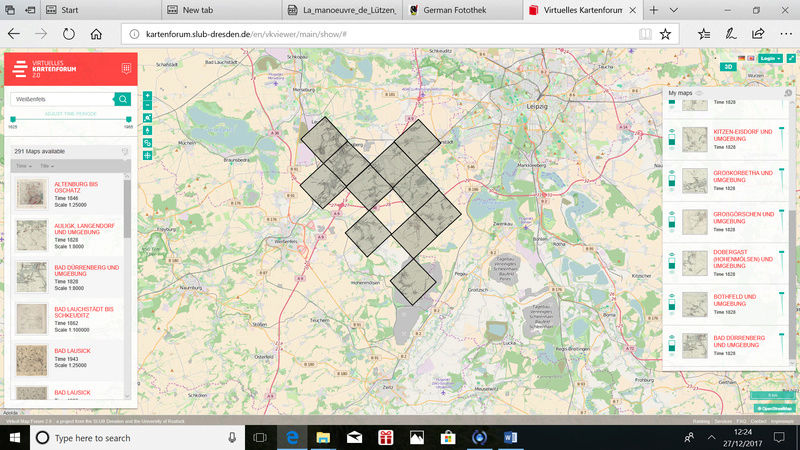 It gets better. After a bit more research you get the whole of the Lutzen 1813 battlefield plus Leipzig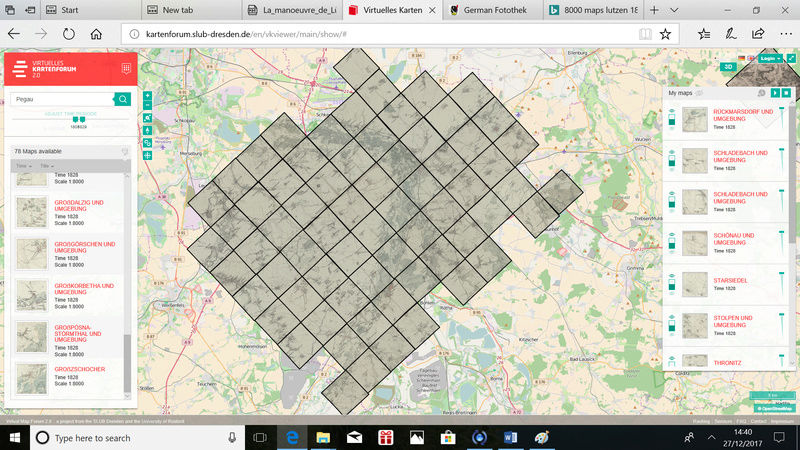 Tim Carne




Posts

: 38


Join date

: 2008-12-26



That could well be, Tim.

Here is another possibility. The preamble to the 1824 rules mentions a recent series of maps of Saxony as being available for staging Kriegsspiels. So these may be part of that series.

Martin (J)

Martin




Posts

: 2269


Join date

: 2008-12-20


Location

: London



Martin, these were printed in Berlin in 1828 and according to the notes :- "Edited by V. Felden, Major in the King's. Prussian General Staff" so I am fairly certain that this was created for KS. Or maybe reprinted for KS use
Having searched the site I have not found anything else in 1:8000 scale so that is it for now but there are 80 maps in the series.
Link
http://www.deutschefotothek.de/ete?action=displayContext&sstate=eJzNV_9P20YUJ4Q2IcCg13albJUiq5MqlCLbsSEJ0jZKSgWlQJvSrmo6z7EviYvty3w24UuR-g_sb9i_uP0F27tznGDibKm0Ts0P8d37vO93995dNoV-yiFsdlZ-DbB3ukJ93TV1z1z44-PHj9nFCSFd3a4-SMnf5aZNchQ42PUxmiWN9_myKIplsSwvpTf2qkLat4-WJ0qpHzM72UjH0kruJtNsE5Ds9FWjiaUJYS43wb-h3INU6fffrgv5XKb66Im2u_8E3aTY3-Vyz5lfW7qB_cWUsDzguIcph54RE9uV_FvwCRt-fp9_3gHv_QHvHbrtmvikkgcmU_ct7AVuSzujwHV7wJWlL7HnVPIikGOubFm2j73HJx0PU2oRt5IHjrsDjlm3Zp3hSr7MfgB9M4C-osy_Sr5JvC7EDuC9AbhQa5MuD-IFpoHtM3_-ygzwPzPnAl8WoXIuNLkT2GTjPrFBiM2-TkB9ofIWBrpvtDXdZtSLi3cFjmguYSjMaJsEtsnGFxeFnspEPUB3GKG_6EJFuLzqwr8oZ-pp0Gphpu-c2fIIKBSBCqkSKrIKI-KFxgxjxTA0PWi6etvBsEABsAo6NYSLwrmgBZYZTcGK3mpR5pnuYZ19mac0TBC2OSMDIjsqj5P4pOXpTewmClyCY2KOTils2kaiUB-MicRigA2W7OBVppiKDvYocbGrHRHssUmijmGumJKGZZuuRSlOFB6gMSG_jZ0RKepBMXZYvWT1HIixUt-DdI3Q3Qfj2uMnNdnQFZ6Ygks7N0F0gMZT4GEsJWeAIzHmsK59kme8QrDUmeG508JzFm5u9oMKkMulH0siSkkwXmRjCc0f6ZBTF4pI4KycODYgCwyRUcZwaI_ykFGK6L7ZlEWpqHWChm0ZWscjZmD4ULVWPEpPqY-dFRNHZpTQzCwbqyh9immErKIUq4Nfs_EamgsL1AEUQEga0GcYvYQmZRUmN9ikjLImMXhSgTSdm3wsh8rvAiqLaOHqEe_ZlSWUhvBh9ozNFFTFO2fv3zzaqal459mpUQrODot7T8WjVwq1D07tp9296kaXVmvdvZ0dyzx-cXb4ejs4NdzXb1obGyC5032-vAzq5pg6FU25cE56HsuraBK7EbaGph6uiWLP22Lo7TwMFZQZ1Os5IKjoWlTb78B0Fc0PNxITgDKqN3TjqCIVpHXL1SHtx3gdWNejsrlumlobyoapiexXLGm6KK7rJUUVGd-HiO9DIh9YaXErGsUd3dN94nFTn8NQmxv6JVpSbodiG3orNv9bSy631ATdzFAsssrniKzJ7f3cj0wuyONmUBrTjvQlxFUsFMeNSx7TjvwlxKUUlHHjKo5pp_glxKUW1HHjUsa0o_yvJQNzQ-96pRPO1dhmPulcsUJek9BkSeK9apKNeUeDRlODxrkAlxV-Qda8_q36KwZJ6JpPfN0OO1YNume26WHLxyd-2Itq0D7TpNkM-14NuuNQ3-Ncpctc0Nrmwov0K4taDZt5ghhdQtOWax1bNKTdYzQZ3ar50PzoLmlZLvy1sLkf-D3n5WKi88wm9MU0tPpIjzpSzy0Gr6GZhk6PsK8dW7gbCZVGCi0wuIwylntMLCPytiiOFLjNYAnNUstt2ThMUthWa0UZTdkW7U-LaOqMECcSUoaElhhZRTfi1-LwSjDDsNXeNYPLl5KNlvtGv4UdoYx0nDErYt8ltg8UCWUt17ADE5vhlaumyGgeXjPdTeKwo7lFPKeXE6U4UjXXpQzrUkfqWv1nXaWYLk4qx0hwV6mpKGPiph6mgvGo4pCYGo-QbTVVSdxqHFIToUUwVkpEbuXmzKbm6CfhMaAopfI9db3JXu0UTbEXGT8tESU3eHJx-YiejV5VfB0j6sLVBxPPX4TeGHoK8a0SwdP9xw4_lxH5eviiifvJHi5xf6K3CX_UR9SEy98le_2XBU9-RL7G3w9A2s_NQFWATEE59tvo-3r9h_pmpa53aN1s1Ktb_O5-cPhod3tTO3ixXz3cfLm9vwc4Y2A3
Example map - these are all 47x47cm

Tim Carne




Posts

: 38


Join date

: 2008-12-26



That seems conclusive.  Well-sleuthed!  

They differ from the standard k/s maps we normally use by lacking contours.  But that's to be expected of an 1828 date, and our usual maps (Meckel, Koeniggratz, Metz) are all a lot later.  And actually they are none the worse for that IMHO.  I've always felt the hatching scheme was superior to contours from a purely military point of view.  At least for horse & musket games.

When printing k/s maps in b&w I sometimes colour the hilltops in a very pale yellow, which really brings them out, and avoids confusion with low ground.

80 new maps gives us a lot to play with!  Presumably it's possible to print these out in a reduced scale.  If so, perhaps we could even try one of these for one of our spring army-level games.  Will discuss with Steve.

Martin (J)

Martin




Posts

: 2269


Join date

: 2008-12-20


Location

: London




---
Permissions in this forum:
You
cannot
reply to topics in this forum