Latest topics
»
Proposed fictional campaign
by
Mr. Digby
Yesterday at 2:56 pm
»
Impromptu Games
by
Grog
Fri Oct 18, 2019 6:47 pm
»
Looking to try the game and have some questions
by
Popski255
Thu Oct 17, 2019 6:57 pm
»
Using Wi-fi chat in "face-to-face" kriegsspiels
by
henridecat
Sun Oct 06, 2019 6:09 pm
»
24th November face to face game at LG. The War of 1810
by
Martin
Sat Oct 05, 2019 3:37 pm
»
Maps of Suabia - Strassburg to Augsburg
by
Martin
Sat Oct 05, 2019 12:27 pm
»
TableTop Simulator
by
Maximilian (Punky)
Sat Oct 05, 2019 1:22 am
»
Maps of Lower Austria.
by
Tim Carne
Fri Oct 04, 2019 11:31 pm
»
20th October 2019 face to face game at Little Gaddesdon
by
Martin
Fri Oct 04, 2019 2:42 pm
»
Set Up for SOWWL NAPOLEON GAMES For Kriegspiel style
by
camrik
Fri Oct 04, 2019 1:26 am
»
22nd September face to face game at LG. WW1 Naval
by
Martin
Mon Sep 23, 2019 3:21 pm
»
SOW Scenario Generator
by
Mr. Digby
Tue Sep 17, 2019 6:13 pm
Statistics
We have
1068
registered users
The newest registered user is
Pom127
Our users have posted a total of
26526
messages in
2073
subjects

I never know where to post my announcements about the development of
General Staff
. If this is the wrong place, please let me know.
We've added slope weighting to our least weighted path algorithm. This creates realistic (and optimal) paths for units. A key feature in
General Staff
is the simplicity of giving orders to units. Just select the destination and the AI does the rest. Destinations can be selected by either clicking on the map or selecting a destination from a list of important objectives.
Link to post about this new AI is here.
http://general-staff.com/slope-weight-added-to-least-weighted-path-calculations/
.
A screen capture of a unit avoiding a hill: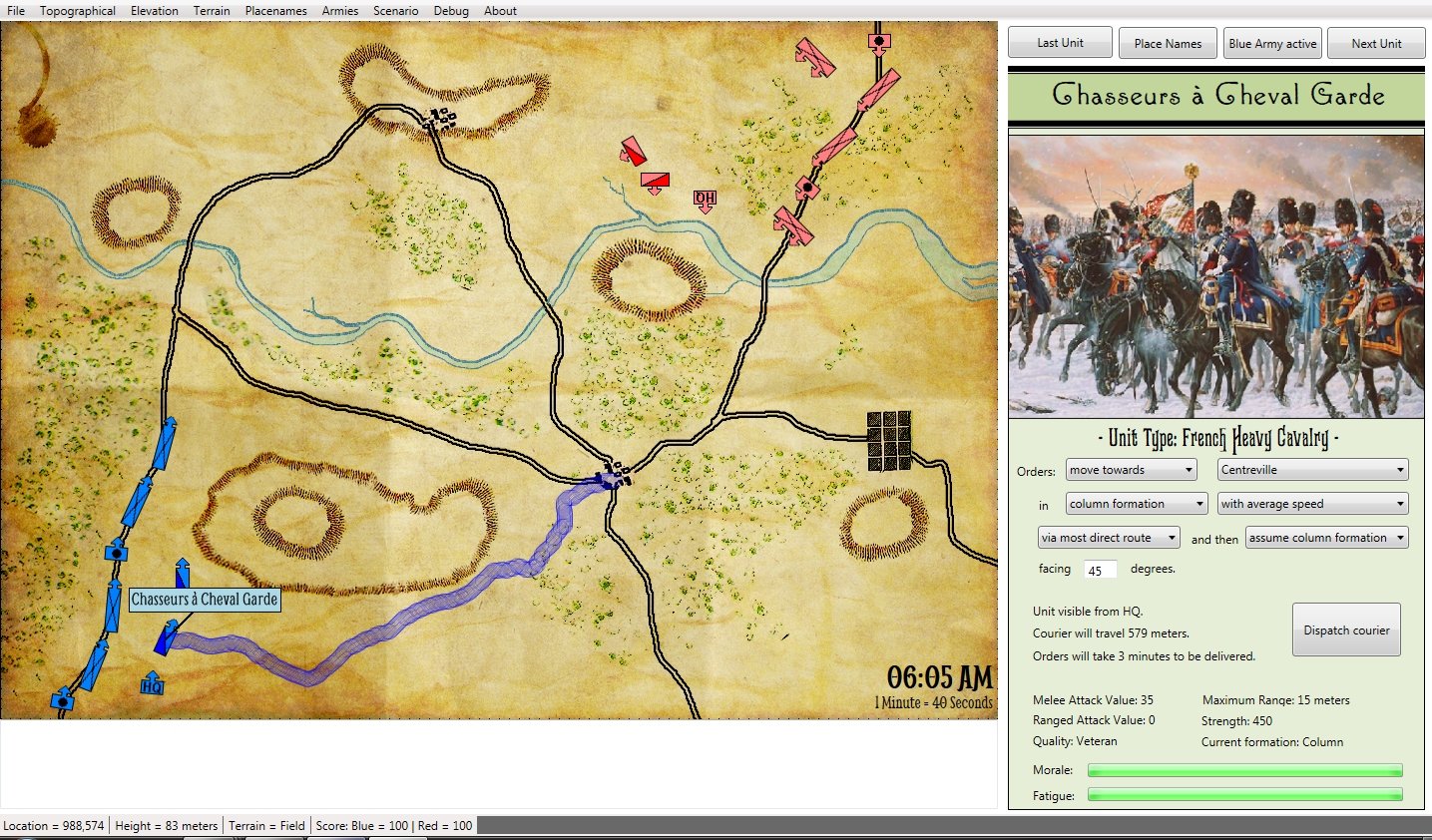 I suppose the weighting of terrain changes by unit type (artillery vs cavalry vs infantry), so they have differing movement penalties by different terrain?

Nice to see the columns moving. Do they slowly transform their footprint into line? Or pivot? Or something else?

midgetmanifesto




Posts

: 143


Join date

: 2014-12-20


Location

: Vancouver, BC, Canada



Thanks for the cross-posting!

I'm very unfamiliar with the current computer wargame community.
I'm not convinced that cavalry could sustain those speeds for any length of time. Those would be speeds more commonly found during a charge. The same observation can also be made for the horse artillery.

Are you sure an elephant can outpace a horse?

_________________
I can make this march and I will make Georgia howl.

Uncle Billy




Posts

: 3566


Join date

: 2012-02-27


Location

: western Colorado



I would certainly be happy to change these values.

Frankly, I don't remember where I found them. The elephant speed does seem to fast, but then again, I don't have any scenarios with elephants so it hasn't come up, yet!

---
Permissions in this forum:
You
cannot
reply to topics in this forum