Latest topics
»
SOW Scenario Generator
by
stephen
Yesterday at 10:17 pm
»
Impromptu Games
by
Uncle Billy
Yesterday at 4:50 pm
»
OOB accuracy of standard scenario's
by
mcaryf
Fri Jul 20, 2018 6:36 pm
»
Sandbox battle. wandering troops
by
stephen
Thu Jul 19, 2018 9:39 am
»
September 23rd 2018 face to face game at Little Gaddesdon
by
henridecat
Sun Jul 15, 2018 7:33 pm
»
Any interest in a new campaign?
by
Hannibal
Sun Jul 15, 2018 3:40 pm
»
Kriegsspiel at Origins 2018
by
Martin
Sat Jul 07, 2018 12:40 pm
»
Pre-Painted Metal Block Set
by
timothylrose
Thu Jun 21, 2018 10:33 pm
»
Interim Version 1.275 of the KS Napoleon Mod Uploaded
by
Uncle Billy
Thu Jun 21, 2018 1:09 am
»
Austria 1809 OOB with French Guard
by
Uncle Billy
Sun Jun 17, 2018 3:41 pm
»
A gift from the Southern California Kriegsspiel Society to the Kriegsspiel community of Little Gaddesden
by
Martin
Fri Jun 15, 2018 2:25 pm
»
Sunday 24 June Napoleonic Kriegsspiel
by
Martin
Thu May 31, 2018 6:06 pm
Statistics
We have
1021
registered users
The newest registered user is
flawedneutrality
Our users have posted a total of
24927
messages in
1981
subjects

We're go for launch.
The GCM fellows are interested in playing a KS-style strategic campaign and I believe we will have enough players turn up to play the battles as they play out over the next couple months.
I have designed a map. As soon as I have the forums set up by the site moderators, I will post sides and we can decide who will command what. In another thread, I will post official signups. When the segregated forums open, I will post the first news reports and situation reports.
Please confine this thread to discussion of the map and rules.
I intend to keep things as simple as possible.
1. All battles will be fought with strict KS discipline including HITS and couriers, official KS mods, and strict communications discipline during battle. These rules should be obvious, let me know if clarification is required. Any of the KS vets can brief you. Additional mods are okay if they do not conflict with KS spirit and rules and do not pose risk of crash. Check with MTG regarding mods.
2. All movement is point to point and takes 1 day for movement. Exception is the Pike, space no. 26, which does not cost anything for movement.
3. Both sides will have immediate telegraph communications back to pentagon-shaped spaces and spots 3 spaces away from those spaces --directly along those lines of communication. In other words, if you can trace a line of supply three spaces or less back to a pentagon space, then you have a working telegraph. Away from those spaces, couriers can move at a rate of 3 spaces per day, but this includes return movement. This means communication with an adjacent space is same-day, two spaces away is next day.
4. Purple spaces are potentially controlled by the Lost Division and have no communication in, out, or though. Orange spaces and lines are contested areas and anything can happen. Allow for surprise contacts and disruption to communications unless you control both spaces on either side of the orange line.
5. The moderator (that's me) reserves powers of
deus ex machina
in all cases and renders final rulings. I hope I have to use them only minimally.
There will be other rules, but these are the important ones.
Map is attached for comment.
I really wish it were cleaner, but this is the best I could do. Can you do better? Please help yourself and impress me. The original is a bit clearer than the hosted version, and can be emailed out as needed.
-Neal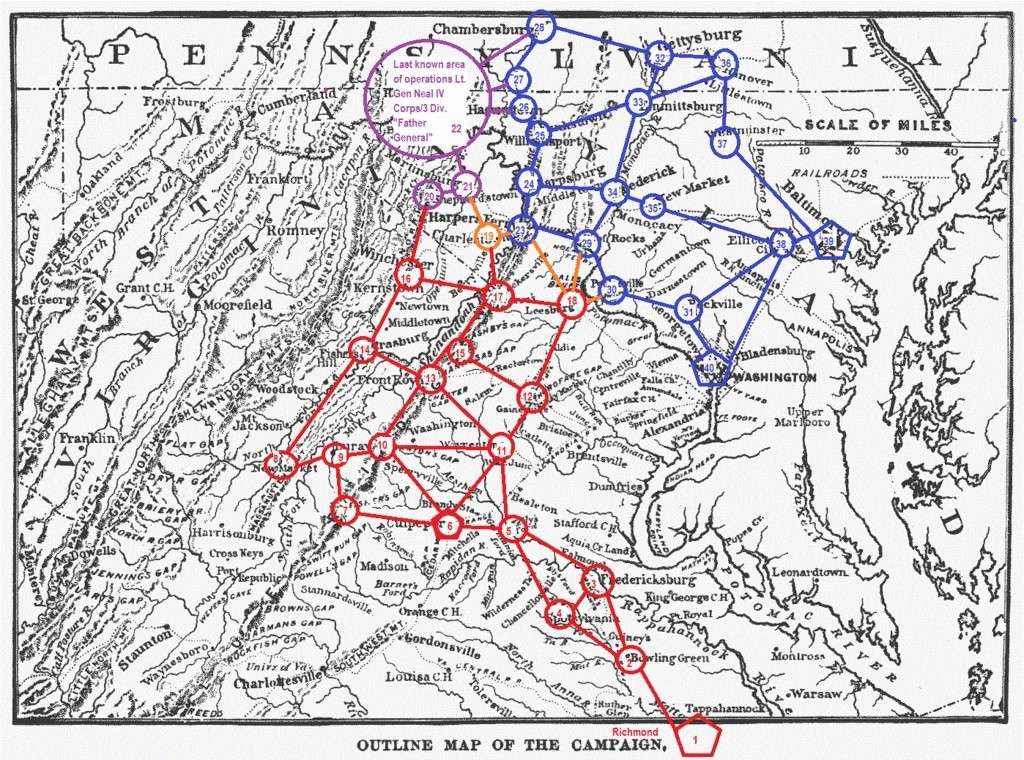 Father General




Posts

: 918


Join date

: 2012-03-25



1. Richmond
2. Bowling Green
3. Frederick
4. Spotsylvania
5. Kelly's Ford
6. Culpeper
7. Fisher's Gap
8. New Market
9. Luray
10. Thornton's Gap
11. Warrenton
12. Thoroughfare Gap
13. Manassas Gap
14. Strasburg
15. Ashby's Gap
16. Winchester
17. Snicker's Gap
18. Leesburg
19. Charleston
20. Shepherdstown
21. Martinsburg
22. Wilderness Area
23. Harper's Ferry
24. Sharpsburg
25. Williamsport
26. Hagerstown
27. Pike (road)
28. Chambersburg
29. Point of Rocks
30. Poolesville
31. Rockville
32. Gettysburg
33. Emmittsburg
34. Frederick
35. New Market
36. Hanover
37. Westminster
38. Ellicot City
39. Baltimore
40. Washington D.C.


Father General




Posts

: 918


Join date

: 2012-03-25




---
Permissions in this forum:
You
cannot
reply to topics in this forum