Latest topics
»
24th November face to face game at LG. The War of 1810
by
Martin
Yesterday at 12:04 pm
»
Impromptu Games
by
Uncle Billy
Tue Nov 12, 2019 5:46 pm
»
Veterans/Remembrance Day game?
by
Charmead
Tue Nov 12, 2019 12:46 pm
»
A Little Archaeology for Les Grognards
by
King_Rufus
Sun Nov 10, 2019 10:43 am
»
Potted history of Kriegsspiel and of Wargaming in general.
by
Mr. Digby
Thu Nov 07, 2019 3:27 pm
»
Full size Kriegsspiel maps downloadable free from Pinterest
by
Mr. Digby
Tue Nov 05, 2019 2:45 pm
»
TableTop Simulator
by
King_Rufus
Mon Nov 04, 2019 10:36 pm
»
Maps of Suabia - Strassburg to Augsburg
by
King_Rufus
Sat Nov 02, 2019 6:17 pm
»
20th October 2019 face to face game at Little Gaddesdon
by
Martin
Sat Nov 02, 2019 5:37 pm
»
Looking to try the game and have some questions
by
James Sterrett
Sat Nov 02, 2019 12:25 am
»
Scourge of war Waterloo with VR headset ?
by
James Sterrett
Sat Nov 02, 2019 12:15 am
»
Waterloo OOB/blocks
by
Martin
Wed Oct 23, 2019 11:37 am
Statistics
We have
1073
registered users
The newest registered user is
barrent
Our users have posted a total of
26607
messages in
2079
subjects

I am not sure whether these are of any use but I made them up over some rainy nights a few years ago and they have been sitting in my PC since unused.  They are lowly .bmp images but I wonder whether they would be useful as a proof for someone to make a set of Waterloo blocks?  Colours should be easy to pick up: Nationality in the top bar, uniform colour in the bottom right diagonal, French Guards in darker blue to distinguish from Line troops, etc, unit abbreviations.  I think my intention was for use with the game Republique but they should be ok for KS I think.  Feel free to have and use as you all may wish.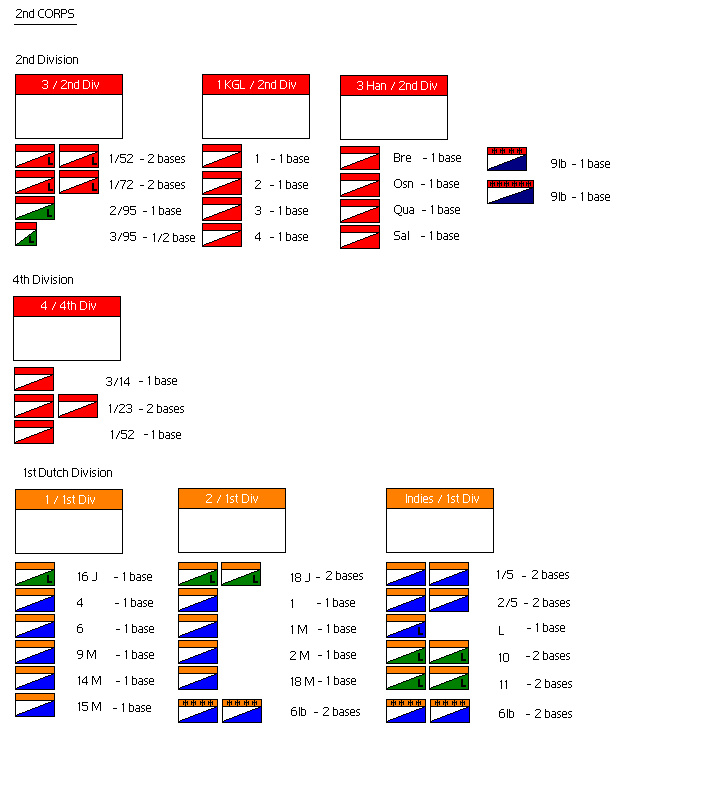 Last edited by jdfletcher24 on Tue Oct 22, 2019 9:40 pm; edited 2 times in total

jdfletcher24




Posts

: 3


Join date

: 2019-10-03




jdfletcher24




Posts

: 3


Join date

: 2019-10-03




jdfletcher24




Posts

: 3


Join date

: 2019-10-03



Excellent stuff, and thanks for posting.

TooFatLardies still have Bill Leeson's Waterloo map for sale, so it would be possible to re-fight the battle, using your blocks. You would also need some Prussians.

IMHO such an exercise would need to be done with modified rules however, as the published Reisswitz (and successor) rules are designed for use with detachments, rather than armies. something more streamlined is probably needed.

Martin J

Martin




Posts

: 2333


Join date

: 2008-12-20


Location

: London




---
Permissions in this forum:
You
cannot
reply to topics in this forum