Latest topics
»
Impromptu Games
by
Uncle Billy
Today at 4:23 pm
»
Wargaming in the military
by
Martin
Yesterday at 10:41 pm
»
Presentation
by
Uncle Billy
Wed Oct 10, 2018 6:54 pm
»
DarkRob's Video of the KS Napoleon Mod
by
Uncle Billy
Mon Oct 08, 2018 4:43 pm
»
Set Up for SOW ACW GAMES For Kriegspiel style
by
Uncle Billy
Fri Oct 05, 2018 4:55 pm
»
September 23rd 2018 face to face game at Little Gaddesdon
by
henridecat
Wed Sep 26, 2018 8:21 pm
»
November 25th 2018 face to face game at Little Gaddesdon
by
Mr. Digby
Wed Sep 26, 2018 5:55 pm
»
October 21st face to face game at Little Gaddesdon
by
gunboat diplomat
Wed Sep 26, 2018 4:49 pm
»
Autumn schedule of face to face games at Little Gaddesdon
by
gunboat diplomat
Mon Sep 10, 2018 4:49 pm
»
1828 dice tables
by
Tim Carne
Sat Aug 25, 2018 2:42 pm
»
Kriegsspiel revised rules 1828
by
Tim Carne
Thu Aug 23, 2018 3:32 pm
»
Other PC games - Command Ops 2
by
Martin
Thu Aug 16, 2018 5:58 pm
Statistics
We have
1030
registered users
The newest registered user is
afcwfan
Our users have posted a total of
25149
messages in
1991
subjects

Post about the features in General Staff including map, army and scenario design:
http://general-staff.com/general-staff-features/
.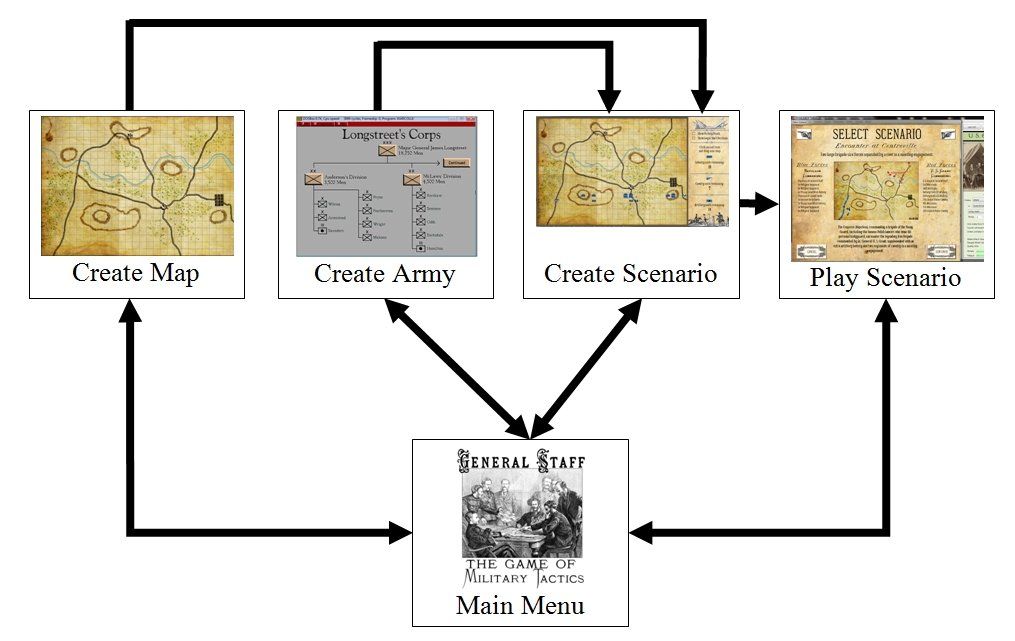 Thanks for posting, Ezra. Am following this with interest.

Can you please explain the pros and cons, as you see them, for creating a flat or hierarchical data structure for armies?

Martin (J)

Martin




Posts

: 2247


Join date

: 2008-12-20


Location

: London



The biggest advantage to using a hierarchical army structure is that the user can give higher level commands (e.g. "III Corps advance towards X") and not worry about the routes of the individual units (obviously the quality of the routes would depend on the quality of the AI see
http://general-staff.com/tag/pathfinding/
).
The advantage of a flat army structure is that units are just units and can be mixed and matched during battle as you please. You want to detach a unit from the left flank and send it to the middle? No problem.
From a programming perspective I suppose a flat army structure is simpler. But I've written code for both.

---
Permissions in this forum:
You
cannot
reply to topics in this forum