Latest topics
»
September 23rd 2018 face to face game at Little Gaddesdon
by
henridecat
Sun Jul 15, 2018 7:33 pm
»
Impromptu Games
by
Morsey
Sun Jul 15, 2018 6:50 pm
»
Any interest in a new campaign?
by
Hannibal
Sun Jul 15, 2018 3:40 pm
»
SOW Scenario Generator
by
stephen
Sun Jul 15, 2018 10:34 am
»
Kriegsspiel at Origins 2018
by
Martin
Sat Jul 07, 2018 12:40 pm
»
Pre-Painted Metal Block Set
by
timothylrose
Thu Jun 21, 2018 10:33 pm
»
Interim Version 1.275 of the KS Napoleon Mod Uploaded
by
Uncle Billy
Thu Jun 21, 2018 1:09 am
»
Austria 1809 OOB with French Guard
by
Uncle Billy
Sun Jun 17, 2018 3:41 pm
»
A gift from the Southern California Kriegsspiel Society to the Kriegsspiel community of Little Gaddesden
by
Martin
Fri Jun 15, 2018 2:25 pm
»
Sunday 24 June Napoleonic Kriegsspiel
by
Martin
Thu May 31, 2018 6:06 pm
»
The Groghead Crew just finished a 1 1/2 year of Vol de a'igle III
by
Iconoclast
Wed May 30, 2018 10:24 pm
»
New to SOWWL & KS Nap Mod - Single Player Scenario(s) Help
by
GeeDub
Mon May 28, 2018 9:15 pm
Statistics
We have
1020
registered users
The newest registered user is
stephen
Our users have posted a total of
24899
messages in
1980
subjects

I am working on a PC Kriegsspiel entitled
General Staff
and I have a rules question.
What should I do in the following situation?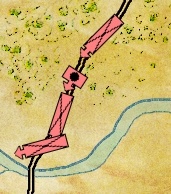 I've got a jam on a road and the lead unit can't turn fully to continue on the road. There are a couple of ways I can handle it:
1. Let units of the same side pass through each other but at a movement cost penalty.
2. Enforce strict 'no stacking' rule and make the entire column back up on the road until the lead unit can turn and proceed.
Is there a Kriegsspiel rule that covers this? What's the most authentic solution? What's the best gameplay solution?
why can't the lead unit continue. I think you are misunderstanding how the blocks are used. in the Riesswitz game universe the length of the block indicates the frontage of the unit in combat not the length the unit occupies on a road. effectively a unit marching down a road only needs to take into account where the leading edge of the unit is and how much space the unit takes on the road but this unit will conform to the road shape. since the block we use to represent the unit is rectangular we cannot make the unit conform to road shape so must abstract it when placing the block. we do this by placing the block where the front rank of the unit is and ignoring what the rest of the block is doing. so if a unit takes up 500m of road space and there is a 10m gap between units the next unit is placed 510m along the road the blocks may overlap but the only point we are concerned with is where the front rank of the first unit has reached and where the front rank of the second and subsequent units has reached

Druid_ian




Posts

: 34


Join date

: 2009-01-05


Age

: 58


Location

: Preston, Lancashire, United Kingdom



Speaking as a table top wargamer, traffic control is usually a huge headache in napoleonic games. Columns probably shouldn't be able to march through one another on a road (if roads give a movement bonus). You might choose to allow movement with 'offroad' speed (to represent the unit moving on the shoulder). You could just have the unit pathfind off the road in order to maintain a no stacking rule.

One thing to consider is the scale of the unit. On higher level games a unit would represent the area of control of a bunch of smaller units with spaces between them. In this case it's probably very much feasible for units to move through each other (but bad news if they get caught in a fight during this transition). When 'zoomed in' more, a unit is probably the actual footprint of the men so shouldn't really allow passage.

midgetmanifesto




Posts

: 141


Join date

: 2014-12-20


Location

: Vancouver, BC, Canada



I would suggest the second option. A 'no stacking' rule. You could alternatively specify a minimum distance between units on a road so their blocks do not collide in this way. I would also suggest that your artillery 'blocks' on roads should be far longer than the symbol you are using. An artillery battery in a road column has dozens of vehicles and would occupy much more road distance than an infantry battalion or cavalry squadron. You might want to change the counter the unit uses for a road march formation.

In addition if your counters in that picture represent battalions or squadrons you should think about including a 'supply' or 'baggage' unit marker as well. These should probably be included at the ratio of one per brigade to represent the support elements of the brigade. It ought to probably take up as much road distance as all the combat units of the brigade COMBINED.

_________________
The other Martin - Charles Reille, le dernier Maréchal de France.

"Any hussar who has not got himself killed by the age of 30 is a jackass." - Antoine Charles Louis Lasalle, commander of Napoleon's light cavalry, killed in battle at Wagram 6 July 1809, aged 34.

"I had forgotten there was an objective." - Generallieutenant Mikhail Borozdin I

Mr. Digby




Posts

: 4956


Join date

: 2012-02-14


Age

: 58


Location

: UK Midlands



I've received good advice and excellent arguments for both options.

I am probably learning towards enforcing a strict 'no stacking' rule. This will mean the whole column will have to back up on the road until the lead unit properly situated on the road.

---
Permissions in this forum:
You
cannot
reply to topics in this forum