Latest topics
»
SOW Scenario Generator
by
stephen
Yesterday at 10:17 pm
»
Impromptu Games
by
Uncle Billy
Yesterday at 4:50 pm
»
OOB accuracy of standard scenario's
by
mcaryf
Fri Jul 20, 2018 6:36 pm
»
Sandbox battle. wandering troops
by
stephen
Thu Jul 19, 2018 9:39 am
»
September 23rd 2018 face to face game at Little Gaddesdon
by
henridecat
Sun Jul 15, 2018 7:33 pm
»
Any interest in a new campaign?
by
Hannibal
Sun Jul 15, 2018 3:40 pm
»
Kriegsspiel at Origins 2018
by
Martin
Sat Jul 07, 2018 12:40 pm
»
Pre-Painted Metal Block Set
by
timothylrose
Thu Jun 21, 2018 10:33 pm
»
Interim Version 1.275 of the KS Napoleon Mod Uploaded
by
Uncle Billy
Thu Jun 21, 2018 1:09 am
»
Austria 1809 OOB with French Guard
by
Uncle Billy
Sun Jun 17, 2018 3:41 pm
»
A gift from the Southern California Kriegsspiel Society to the Kriegsspiel community of Little Gaddesden
by
Martin
Fri Jun 15, 2018 2:25 pm
»
Sunday 24 June Napoleonic Kriegsspiel
by
Martin
Thu May 31, 2018 6:06 pm
Statistics
We have
1021
registered users
The newest registered user is
flawedneutrality
Our users have posted a total of
24927
messages in
1981
subjects

I just fought a 2 hour battle (HITS) and I had the time of my life. And I am not running any mods yet (KS included).
Some questions!
1) This is the CO status card. How the heck do you read the casualties graph?
2) What does the gradient on some of the units mean?
3) What does this exclamation sign mean?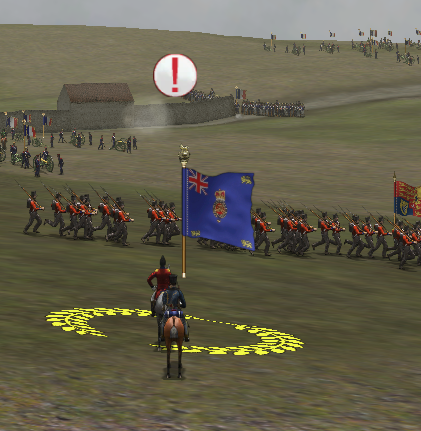 4) How can I tell cav/inf on the map?
5) In the in-battle options, what does "Hide Flag Icons" do?
6) In the same screen, what is "HITS Move"?
7) Cant click on flags of units unless I 'Go to me' first - any ideas?

are unit flags distinct enough to use for identification?
9) Is there a visual indicator of performance? Or do I have to cyclke through my units to see how rested & morale they are?
10) Anyway to use binoculars/zoom?
11) how realistic are the combat results?
My division had 2 battalions in it after 2 hourS of fighting. From 3 brigades!
Observations!
1) HITS is amazing. Command and control really is so interesting and challenging.
2) Artillery seems to not inflict many casualties. 500 or so for both batteries combined, and they saw plenty of shrapnel range combat.
3) I had no idea what was happening in the wings, which added to the tension. At some point the French cavalry counter attacked and swept the field. It was amazing to witness it from HITS.
4) Couriers.... I get sending out orders. Its very tricky to translate thoughts into orders! But I never get response to status requests from my subordinates, or my superiors. I asked for support but none came. Should I expect messages back?
Thank you for any thoughts you have

oldSerge




Posts

: 1


Join date

: 2015-09-16



1. I think they are red - your casualties, green - enemy casualties the unit caused, yellow - original unit size.
2. The gradient icon is cavalry. Solid is infantry.
3. Exclamation mark means the brigade is in trouble. It has more than 50% casualties, I think.
4. See #2.
5. That hides all the ugly symbols that float above the flags like the exclamation mark, bulls eye, etc.
6. Setting that to a non-zero number will allow you to use the keyboard buttons to move yourself on the battlefield.
7.Compliments of MyGui.

8. Some are. Mostly no.
9. Not really. If you use the KS mod, you'll only have a very rough idea on how you're doing, so get use to imperfect information.
10. Use the Z key.
11. Things are very sped up in the game, so 2 hrs of game time may actually represent 6 hrs of real battle time.
2. Stock artillery is not realistic at all. The KS mod models it much more accurately. Advance on a Russian gun battery to appreciate the full effect.

4. You won't get any information. Those commands are for use in MP between players. To get support, send a courier message with the "Request Support" order used. Put nothing else in the courier message. You can send these to your superior or unit of equal rank to you. They may not always be able to comply with your request. It will also take them some time to get there.
HITS with couriers is the closest you can come to knowing what it was like to command 19th century units. It's all about imperfect information and anticipating long in advance of what needs to be done. Playing MP either co-op or P vs P adds even more to the experience because you will receive feedback from your superiors and subordinates.
Once you have the basics down, use the KS mod. It changes the game from what is essentially ACW in fancy dress to a closer approximation of Napoleonic warfare. You will also find it very difficult to win if the AI controls approximately the same number of troops as you do. We have played numerous MP games in co-op mode with 4-8 players and have the AI thrash us. It's a humbling experience.

_________________
I can make this march and I will make Georgia howl.

Uncle Billy




Posts

: 3116


Join date

: 2012-02-27


Location

: western Colorado



Welcome to the forums OldSerge. Please consider joining us for an MP game using HITS and couriers - those settings are even more immersive when you are part of a team.

_________________
The other Martin - Charles Reille, le dernier Maréchal de France.

"Any hussar who has not got himself killed by the age of 30 is a jackass." - Antoine Charles Louis Lasalle, commander of Napoleon's light cavalry, killed in battle at Wagram 6 July 1809, aged 34.

"I had forgotten there was an objective." - Generallieutenant Mikhail Borozdin I

Mr. Digby




Posts

: 4956


Join date

: 2012-02-14


Age

: 58


Location

: UK Midlands





Similar topics
---
Permissions in this forum:
You
cannot
reply to topics in this forum