Latest topics
»
KS SOWWL Mod 1.28 is Released
by
Uncle Billy
Yesterday at 11:41 pm
»
Sunday fight
by
Mr. Digby
Yesterday at 9:05 pm
»
Impromptu Games
by
Charmead
Sun Dec 16, 2018 5:59 pm
»
Come join the Sunday game! Any game!
by
Mr. Digby
Wed Dec 12, 2018 3:40 pm
»
Kriegspieling assymmetric warfare (Thoughts on StarWars as a setting)
by
midgetmanifesto
Mon Dec 03, 2018 8:16 am
»
Brexit comes to Gaddesden – Cape Trafalgar 1744 & the fall of Gibraltar – after action report
by
Martin
Sat Dec 01, 2018 1:44 pm
»
DarkRob's Video of the KS Napoleon Mod
by
IkerBilly
Wed Nov 14, 2018 6:41 am
»
2019 schedule for face to face games at Little Gaddesdon
by
gunboat diplomat
Tue Nov 13, 2018 2:06 pm
»
Hello, and a new product announcment
by
Father General
Mon Nov 12, 2018 9:42 pm
»
New Player Intro
by
Uncle Billy
Thu Nov 08, 2018 8:18 pm
»
Another kriegsspiel on the PC? HistWar les Grognards
by
Martin
Sun Nov 04, 2018 5:51 pm
»
New to KS mod, question regarding couriers
by
Vilius
Fri Oct 26, 2018 5:18 pm
Statistics
We have
1030
registered users
The newest registered user is
Vilius
Our users have posted a total of
25280
messages in
1998
subjects

Sadly I cannot make the weekend campaign scenario, but I'm hoping enough of us can get together for a small game tomorrow.  Happy to produce a scenario if we can get an idea of numbers quickly.
Have therefore set-up a doodle with a choice of times.  It also allows you to express a preference for Napoleonic or ACW.
Martin (J)
http://doodle.com/xkgmpdypz4ncfgzd

Martin




Posts

: 2253


Join date

: 2008-12-20


Location

: London



I've put together an 1812 scenario which we can play today. More details later.

You will need the Chancellorsville add-on, plus the 2 Nappy mods.

Martin (J)

Martin




Posts

: 2253


Join date

: 2008-12-20


Location

: London



I will try to play...


Iberalc




Posts

: 433


Join date

: 2014-09-19


Location

: Alicante



That would be good Pepe.  It would make at least 4 of us.  
As Josh cannot play before 20.00, I suggest we aim to start then.  Meet on T/S just before if possible.
Here is the French briefing:
Martin (J)



Bessieres' pulls it off?

Background
It is 5pm on 25th July 1812.  After administering a sharp defeat to Bagration at Trubetskoye, two days ago, the Emperor put Marshal Bessieres in charge of the pursuit.  He has pressed the retreating Russians hard and there are signs of disorganisation, with stragglers and much equipment strewn along the road.
But the Russian rearguard has so far prevented complete collapse, and the French have now outrun their supplies, and will have to give up the pursuit at nightfall in about 3 hours time.  
You must clearly use this last chance to destroy as much of the Russian army as you can.
Current situation
The Russian rearguard appears to be an all-arms force, with at least part of Dokthurov's Corps, and plenty of cavalry.  Beyond that you have little information.
Your 3 divisions are approaching the villages of Malersdorf and Walkenberg, and report cossacks at both places.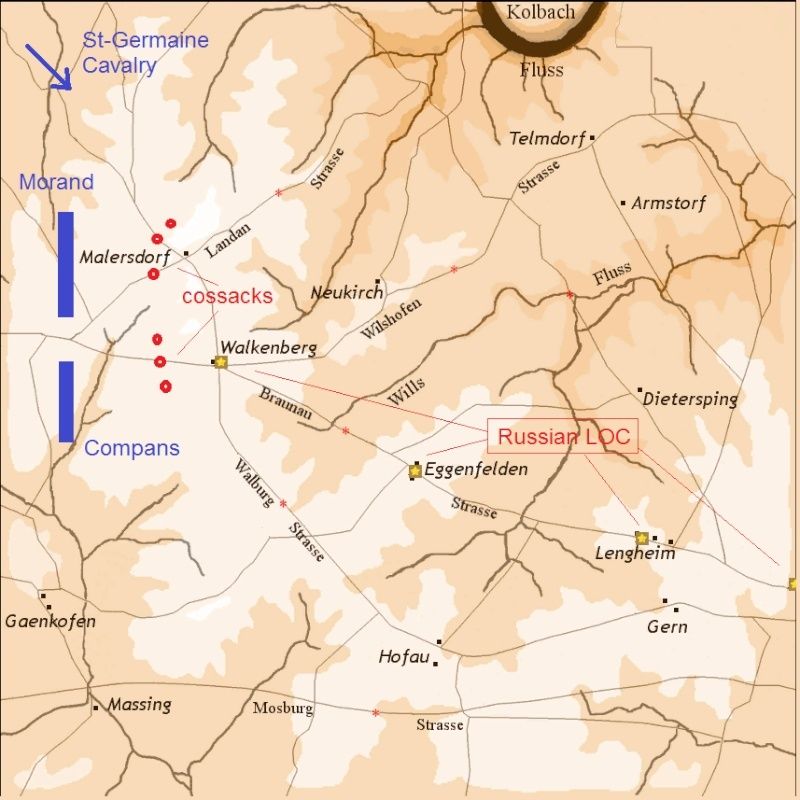 French OOB
You have a strong force of almost 20,000 excellent troops, in 3 divisions, as follows:
Morand's Division                              14 battalions, 6 squadrons, 16 guns
Compan's Division                              9 battalions, 6 squadrons, 14 guns
Saint-Germaine's Cavalry Division       0 battalions, 26 squadrons, 6 guns

Martin




Posts

: 2253


Join date

: 2008-12-20


Location

: London



¡Good game yesterday!

Thanks for sending me the replay Martin, I don't know the reason why both replay files (mine and the one from Digby) are not working and I get a game crash everytime I try to load them. What a pity as it is allways very interesting to get a general picture of the engagement.
About not charging cavalry. The terrain I was fighting on was wooded except for one road running south, it has less trees but the ground was covered with leaves and troops got defensive bonus, so of course cavalry won't charge in woods.

As usually I enjoyed my evening game with superb companions. Special mention to Josh who was CIC when eager to take the cavalry division.

Iberalc




Posts

: 433


Join date

: 2014-09-19


Location

: Alicante




Martin




Posts

: 2253


Join date

: 2008-12-20


Location

: London



Thank you Martin J, with the viewer I've been able to watch the replay. Lots of fresh russian cavalry awaiting for us.

Nice cavalry ride you got at the very end, you ended up beside that russian battery in front of me.


Iberalc




Posts

: 433


Join date

: 2014-09-19


Location

: Alicante



Well Martin didn't do me any favors. I had to watch my handsome brigade of légère being ridden down by all those Russian kirasirys.

I hate cavalry.

_________________
I can make this march and I will make Georgia howl.

Uncle Billy




Posts

: 3235


Join date

: 2012-02-27


Location

: western Colorado




---
Permissions in this forum:
You
cannot
reply to topics in this forum